USED ENGINES
We will be listing used engines for sale here. If we sell your engine we will use the money collected towards your new engine, or if you are not building a new engine and we sell your engine we will collect a 10% sellers fee. Any engine you buy here in the used section we will be more than happy to give you a estimated cost to make it fresh and ready for racing if it is not already. If it is not one of our original builds we can give you a estimate cost of bringing it up to our high standards and in ready to race form.
1) If you are a customer and you want us to list your engine here for sale that we built, please send us a "NICE" pic of your combo, performance of the engine and what comes with it and I can do the rest. Send to sales@stevemorrisengines.com
2) If you want to sell your engine we did not build so you can buy a new or used Steve Morris Engine Send us a "NICE" pic of your engine, a good description of what is in the engine and what comes with it along with performance of the engine. Please note, If we did not build this engine we will make that clear in the description. sales@stevemorrisengines.com
3) We will not post up your IMCA dirt car engine on our site, or your 2.3L ford engine out of your Pinto. This is only going to be higher end, good solid engines that most likely some one wants to sell so they can go to the next level. Boosted engines primarily or engines that can easily be converted to boosted. We will not put every engine up people send us, only engines we would normally sell and build.
1) The "Billet 5 inch" engine -

SOLD!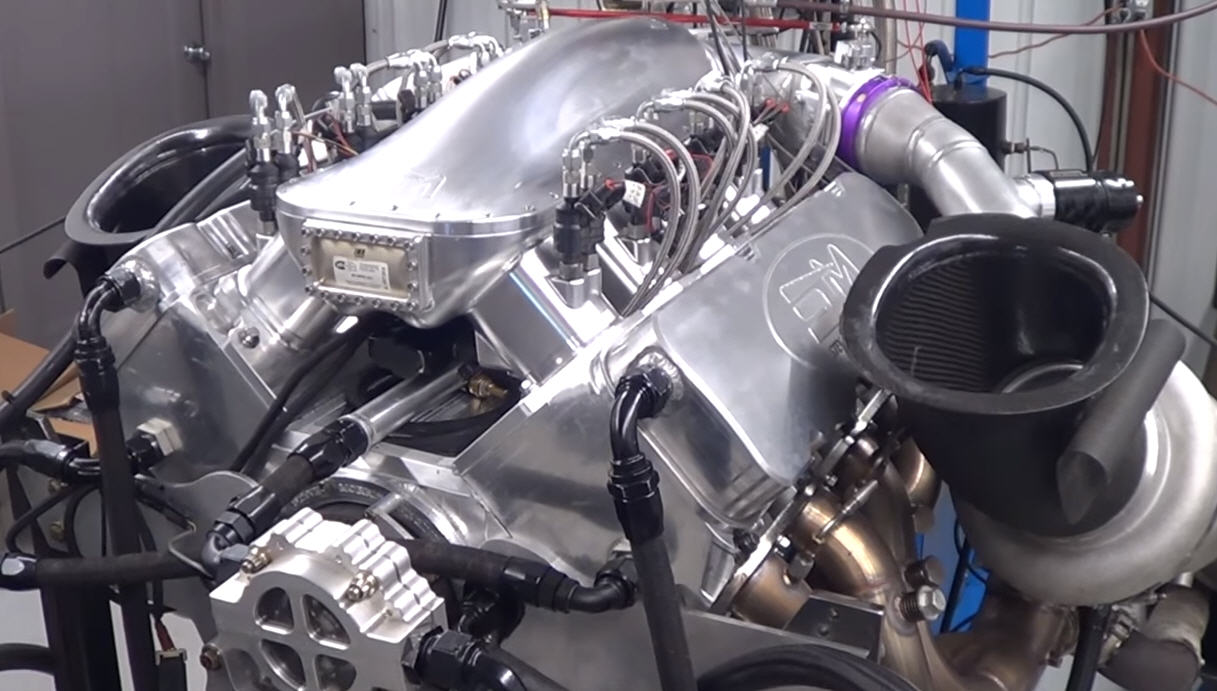 This engine is on the shop floor right now and needs repair, we will only sell our engines done, fresh and ready for power adders or complete ready to run. See the video below. This engine will be all new including New Titanium rods yes real Titanium rods. This engine is a really good engine, that we never had engine issues with, only outside issues that effected the engine. Very good engine, but it has lost 1 rod and minor block repair. Otherwise very good and Drag Week proven on the drives.
We can finish this engine off with your turbos and EFI system, or we can finish it off anyway you want. Ask for estimate to finish the engine off dyno tuned and ready to install.
Click link below to watch Video!
https://www.youtube.com/watch?v=-PT6XXfCg7U
2) LSX 427
SOLD!

This LSX 427 engine has only been ran on the dyno and is just waiting for someone to unleash its full power. It was able to produce 1,800hp with twin 72mm Garrett turbochargers using a SME custom hydraulic roller camshaft, Dart LS3 heads, Molnar 4.0" stroke crank, aftermarket pushrods, Trunnion upgraded LS rockers and a Innovators West Inc. billet balancer. Up top, this LSX 427 has a Shaun's Custom Alloy Billet LS intake manifold with a Holley EFI 105mm throttle body.
$30,000 complete as seen in pictures (does not contain turbos or EFI system)
OR if you are interested in us completing the engine for you give us a call to discuss your build!