Past Features
magazine write-ups
Throughout the years, our work has been featured in a variety of magazine and internet publications. Read below for just a few examples of our innovation!
January 28, 2016 - chevy hardcore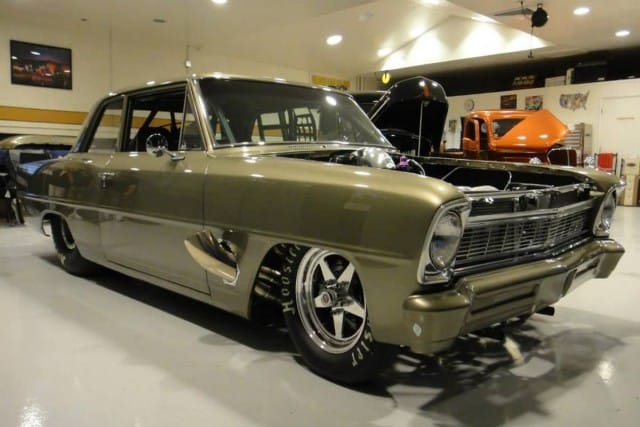 There are certain cars you see at the track that leave a lasting impression. It could be the car's paint, its engine, or the way it runs, but no matter the qualifier, Glen Bolz's 1966 Nova is one of those cars. It's safe to say, Glen's Nova has the paint, the intoxicating sound of a ProCharge'd big block, and it blisters the 1/4-mile in the 7s. His Nova definitely has all the bases covered.
Starting with a rust-free body, Glen found the car in Tucson, Arizona. Since Glen is from Chandler, Arizona, he was able to find an unmolested and rust free shell, of which everyone back east is jealous. The previous owner had started to build the Nova into a race car, but Glen scrapped just about everything that had been done to it, and started from scratch. Since he owns Hot Rods by Glen, he knows his way around a tubing bender and welder. That's why he was able to build the Nova's chassis, and have it NHRA-certified, before setting that cherry, post car's body down on it.
For motivation, there's a Steve Morris Engines-built 540-inch big-block under the hood, featuring a Dart block and heads, a Callies crankshaft and connecting rods, forged Diamond pistons, a Bullet Racing Cams custom grind bumpstick, Jesel rocker arms, an Edelbrock intake, Precision Injectors fuel injectors, a Wilson Manifolds elbow, and a Holley Dominator fuel management system.
The Nova's ProCharger F-3R-139 supercharger is capable of chewing up 35 pounds of boost, and spitting out 2,250 horsepower on Steve Morris' dyno.Behind that earth-moving power is a Hughes Performance double-throwdown Powerglide transmission with a 5,500 rpm stall converter, all manipulated by a Precision Performance Products shifter. A Strange Engineering driveshaft carries the power back to a Jerry Bickel rearend housing, also carrying Strange's best components.
Although not seen in this video, Glen's best time in the Nova is a 7.25 at 196 mph. As you can see in this video, putting 2,252 horsepower to the ground can sometimes be a struggle. Even so, none of us would kick this Nova out of the garage.
Full Article can be found at the following link: Steve Morris Engines in Chevy Hardcore
January 13, 2016 - enginelabs
Video: 2,800-plus Horsepower 540ci Chevy on the Steve Morris Engine Dyno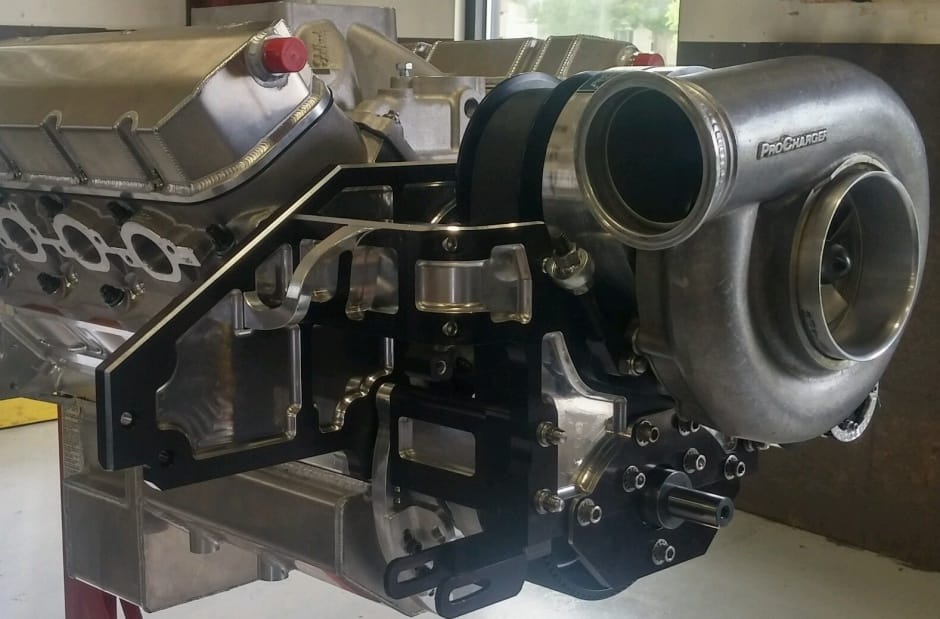 Playing with big horsepower engines all day like those found in the engine room and the dyno cell at Steve Morris Engines must be an exhausting task. We kid, we kid. This particular monster big-block Chevrolet engine checks in at a diminutive 540 cubic inches and is stuffed full of the goodies that SME offers its customers; scienced-out crankshafts, connecting rods, pistons, and valvetrain bits that help to create big horsepower as part of the company's Engine Builder Series of components. Each of the main engine components were purchased from SME by Texas native (and engine owner) Ricky Sehon over the last couple years as he could accumulate the funds.
The engine has been tricked out with a couple of interesting products, most notably the insane computer-modeled, CNC-machined ProCharger bracket hanging the F-3R-136 supercharger off the front of the engine. Turns out that Sehon owns a CNC machining business and developed the trick bracketry in-house.
Also a bit out of the norm for SME's traditional engine packages is the use ofAir Flow Research 385 cc Magnum 24-degree cylinder heads on top. Other notable parts include Holley's Dominator EFI system using SME coil-on-plug ignition that's been tuned in-house at SME to make the power. SME's also outfitted the supercharger with its ProVolute system. There's a Moroso vacuum pump system, and a CN billet aluminum engine block anchoring the big-block. Unlike most combinations that SME develops of this nature which use a mechanical fuel pump, Sehon's engine uses a pair of MagnaFuel Pro Star 750 electric fuel pumps running at 16 volts during the dyno session.
On the initial pulley combination, the engine combination performed exactly as advertised. The power curve — which displays as more of a ramp, not a curve — makes 1,094 horsepower and 1,275 lb-ft by 4,500 rpm. The boosted bullet made 1,500 horsepower and 1,500 lb-ft of torque by 5,500 rpm and continued up from there to 1,898 horsepower at 6,000, 2,158 horsepower at 6,500, and 2,446 horsepower at 7,000 rpm before topping out with 2,669 horsepower and 1,894 lb-ft of torque at 7,400 rpm with 35 psi boost pressure. But that's not all.
"If we build this as our 2,500 horsepower package, that's where we'll dyno and tune it at or just slightly above, but if the customer wants to lean on it harder, they will make more horsepower. He asked us to lean on it harder to see what kind of horsepower it would make," says Morris.
Changing the pulley combination to bring the boost in harder across the RPM range had the desired effect, and it's here that the engine really starts to sing. The new pulley combination not only permits more boost at the top end, but across the entire powerband. For example, with the mild pulley combination, the engine produced 2.5 psi more boost at 6,000 rpm (21.4 vs. 23.94), 3 psi more at 6,500 rpm (26 vs. 29.04) and 5 psi more at 7,000 rpm (30.17 vs. 35.14 psi) before topping out at 40 psi at the end of the run.
With the revised pulleys, the additional boost ensured more power at the benchmark numbers as well. At 4,500 rpm, the engine makes 1,158 horsepower (+64 hp), 5,500 rpm brings 1,689 hp (+75 hp), 6,000 shows 2,010 (+112 hp), 6,500 rpm has 2,328 showing (+ 170 hp) and 7,000 rpm shows a gain of 203 horsepower (2,446 hp vs. 2,649 hp).
Perhaps most impressive is the engine's final power output. Although SME sells the parts and pieces that Sehon used as their 2,500 horsepower package, at Sehon's request they pushed the envelope, taking the engine up to a whopping 2,861 horsepower and 2,001.5 lb-ft of torque by the end of the session. Check out the video and listen to it wind up the dyno!
The full article can be found at the following link: Steve Morris Engines on Engine Labs
November 11, 2015 - chevy hardcore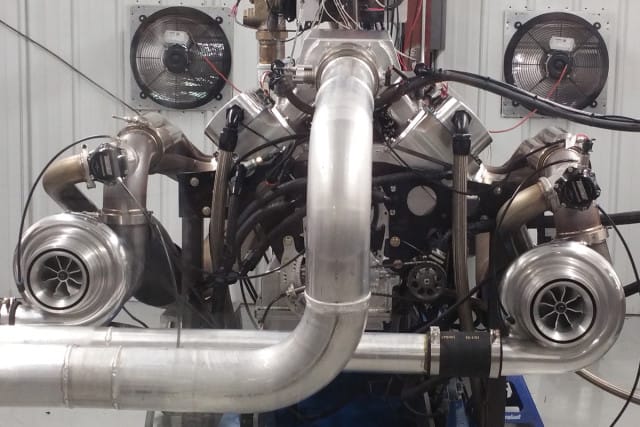 New Zealand is not a country with a large land mass. In fact, it's comprised of three main islands, North, South, and Stewart, along with a number of smaller islands, but the country is seemingly chock-full of automotive enthusiasts. One such resident, Karl Chamberlin, recently contracted with none other than Steve Morris Engines — over 8,500 miles away in Michigan — to build a monster of an engine that has a number of responsibilities.
We've previously reported on numerous occasions here on EngineLabs about the high-powered engines Morris and his team have become well-known for building for Tom Bailey's Sick Seconds and Sick Seconds 2.0 Drag Week machines — among other high-profile vehicles — and it was partly as a result of this notoriety that Chamberlin selected the company to build him a standout engine with similar goals.
"Karl has plans to be able to drive this car from one end of his island to the other — on pump gas — and also take it to the track and turn up the wick on race fuel," says SME's Alex Esnaola.
Based around a 5.000-inch bore-space Brodix big-block Chevrolet block and cylinder head configuration, Chamberlin's bullet puts out — for lack of a better term — monstrous power, even on straight-up Exxon pump fuel from the gas station down the road from SME. Many of the big-power engines SME builds use methanol for fueling, due to the cooling effect the fuel gives to the engine. This one does not, by customer request, and will require the use of an intercooler.
The street-driven goals for this engine had them select gasoline as the fuel of choice, and the engine will be provided to the customer with two different tuneups – one for pump fuel, to be used with the engine set up to ingest a maximum of 20 psi boost, and a race fuel tuneup, which is where things get wild and hairy.
Chamberlin's bullet uses an intercooler stuffed full of boost from a pair of 98mm Bullseye Power turbos set up to Morris' specifications. Turbosmart USA's wastegates and blowoff valves are used to control boost pressures.
A Moroso dry-sump oil pan and multi-stage pump setup is used, and the belt-drive fuel pump is driven from the rear of the oil pump on the dyno, although Morris says that Chamberlin will be setting it up differently in the car.
One area where SME pays special attention to these types of engine builds is the valvetrain and related components. When an engine is subjected to the stresses of street-style duty, and then asked to perform on a massive level at the track, it's imperative that the materials and design are up to snuff – nobody wants to be pulling their engine apart every hundred miles to check out the valve lash.
"Some of the developments we've made with the Drag Week-style engines find their way into engines like this one," says Esnaola.
"In addition, we're part of many development projects for our grudge race and other customers that never see the 'outside world', but we're able to take what we learn in those applications and put them to work in others such as this. Since this development work is proprietary, Esnaola wasn't willing to share any specific details on the valvetrain components, nor disclose camshaft dimensions — he merely said that they are "adequate for the application."
And as with most of their recent engine projects, the SME team turned to Holley EFI for fuel and spark control, as it offers the end-user the simplicity they want in a single control package along with the datalogging capabilities required to keep tabs on an engine such as this one.
There's a pair of 250 pound-per-hour fuel injectors per cylinder from Billet Atomizer — also available at SME — that have been tested across a wide range of applications and found to perform flawlessly.
The engine is run on the dyno in both configurations — pump fuel, and VP Racing Fuels' C-16 high-octane juice — and the results are nothing short of staggering. On the good stuff, the engine tops out at an insane 4,002 horsepower at 7,200 rpm, with well over 2,000 lb-ft of torque available through the entire test range, with a peak of 2,977 lb-ft at 6,800 rpm.
The size of the engine dictates the RPM peak, and since this engine is a bit larger than many SME builds at 670 cubic inches, it tops out on the dyno around 7,200 rpm. We asked how much boost the engine made on the race-fuel configuration. "As much as we could," says Morris.
It's no slouch on pump fuel, either. At the stated 20 psi boost pressure, the engine cranks out a whopping 2,992 horsepower at 7,100 rpm and 2,377 lb-ft of torque at 5,800 rpm
Torque curves are super-flat throughout the RPM range, and horsepower builds swiftly and decisively all the way up to the horsepower peak.
Esnaola tells us that this particular engine isn't capable of a ton more in its current configuration, but if you can find someone that needs nearly 3,000 streetable horsepower, we'll tell you that person needs to have their head examined.
This engine is a serious piece of work, but as SME has demonstrated to us with their past builds, it seems to be the norm up in the forests of Michigan. He also hinted around — but swore us to secrecy — on the details regarding another engine project that's going to put this one to shame, We'll be covering the as-yet-unnamed engine extensively in an upcoming article.
Put 4,000 horsepower to shame? We're salivating at the thought of what's to come from the horsepower wizards at Steve Morris Engines! Stay tuned...
The full article can be found at the following link: Steve Morris Engines on Chevy Hardcore
July 22, 2015 - chevy hardcore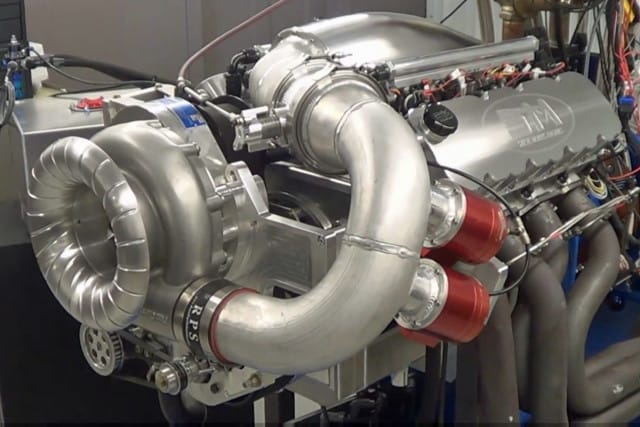 Improving performance has become customary for Steve Morris and the visionary engine builders at Steve Morris Engines. It usually goes something like this–a racer in search of more power makes the phone call, and the guys answer it with a solution.
In this case, that racer is Felix Mendoza. The engine was in need of some updates and upgrades, but was an older piece that Morris and his team determined was in need of quite a bit of improvement once the parts were laid out on the bench. It was touted as "ready for big power", but that was not the case, from Morris' experience. However, the team was ready, willing, and able to make the adjustments to the overall package to get it to come correct, as they say.
Those adjustments included updating Mendoza's reverse-mounted, belt-drive old-school F-3R 139mm ProCharger supercharger with SME's ProVolute system, which includes internal modifications to the blower as well as a new external bellmouth. The ProVolute system, which you'll learn about in an upcoming article here on the site, is designed to improve horsepower by contouring the supercharger's internals to provide better efficiency.
The 540 cubic inch engine uses one of Morris' slick low-profile billet intake manifolds and a custom camshaft in conjunction with all of the valvetrain tricks they've developed over years of producing ultra-high-horsepower engines for their customers. When the engine arrived, it was using a converted tunnel-ram style intake that was nowhere near ideal for this engine configuration.
Morris-modified Profiler 12-degree Hitman cylinder heads are used on top.
Possibly the largest challenge to producing an engine that will thrive at elevated horsepower levels is valvetrain life, and Morris credits the progress learned through working with engines like Tom Bailey's supercharged Sick 2.0 project and Steven Neimentas' twin-turbo BBC as catalysts for this development.
Morris has also discovered what works in terms of piston design and ring pack in a boosted application. It's our guess that hundreds of pistons and rings have been sacrificed on the SME dyno in order to pinpoint the correct dimensions for these components.
As this engine runs on methanol, an immense amount of fuel is required in order to supply the engine at full song. To that end, there's an Enderle belt-drive pump and two sets of fuel injectors onboard–an octet of 160 lb./hr. units and then an additional set of 550 lb./hr. Precision squirters, all controlled by a Holley Dominator EFI system with individual SME coil packs for each cylinder.
The methanol fuel provides a number of benefits, chief among them the removal of an intercooler from the equation due to the fuel's tendency to cool the chamber. Excess weight is also pulled out of the package–the cooler, the extra tubing to and from, and even the weight of the water all affect the performance of a racecar, and Mendoza will now be able to place the required weight in a more efficient location for performance.
"We maintain the proper air/fuel ratios and EGT readings," says Morris. "The EGTs seem to be real critical in this methanol and ProCharged version. We see a different EGT temperature with the turbo stuff."
Even with the dyno needle stopping at 2,720 horsepower and 1,964 pound-feet of torque, Morris feels there is still a tremendous amount of room for Mendoza to grow with this engine package. The engine was only run to 7,400 rpm, as there is simply no need to run it any higher in the RPM range; the moderate RPM levels will promote a long, healthy life in this application. More boost, an upgrade to a dry-sump oiling system, and other upgrades are possible in the future. We can see the dyno software displaying 3,000 horsepower already…
The full article can be found at the following link: Steve Morris Engines on Chevy Hardcore
April 6, 2015 - Jason Reiss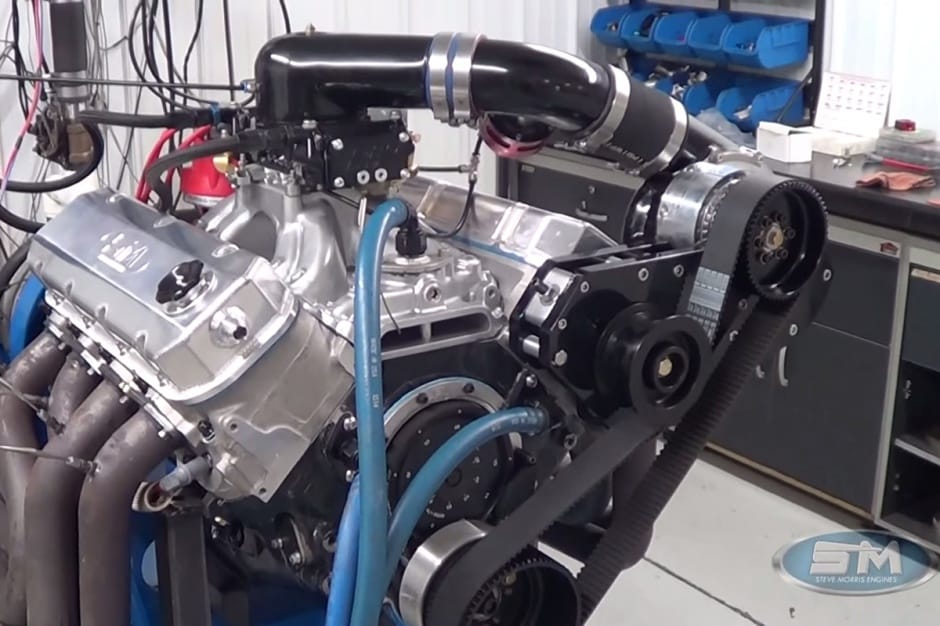 Walk up to any old-timer at a cruise-in at the local burger joint, and ask about the nastiest street engine they've ever seen. Chances are that you'll hear tales of a rip-snortin, gear-drive-equipped, roots-blown big-block Chevrolet huffing through a pair of Dominator carbs that had zero street manners, but garnered the title of "street" engine because the owner was just cray-cray enough to pour gallons of race fuel into it and bring it out to cruise night back in the 80s.
Thanks to the adoption of centrifugal superchargers as a main source of motivation, real street cars are capable of putting down well over 1,000 and even 1,500 horsepower, yet still remain drivable nearly anywhere you want to go – and Steve Morris Engines is at the forefront of this movement.
Case in point? The insane 3,000 hp engines that Morris has become known for,like the one in Steven Neimentas' Bentleyacross the pond, and Tom Bailey's Sick Seconds Hot Rod Drag Week machine.
The lessons learned on projects like those have enabled Morris and his team to science out the specifics of milder engine combinations like the one in this video – as if nearly 1,500 horsepower can be considered low-power!
The 540-cube Dart-block, Dart 345-cc Pro 1 ported-head engine was brought to SME by customer Greg Czywczynski, who had the engine built elsewhere, had some issues with it, and ended up at SME to make use of their skill building and tuning engines like this one.
The blow-through-carbureted, non-intercooled combination makes use of an F-2 ProCharger in a side-slinger configuration, and is destined for street/strip use. Morris' expertise with camshaft design, along with piston and connecting rod specifics and the company's valvetrain enhancements have been put to work inside the engine.
Morris' tuning skills are put to work in the dyno cell. Although Morris built a tuneup for both pump fuel and race fuel, with VP Racing Fuels' C-16 dino-juice in the fuel tank and 15 pounds of boost, the ProCharged BBC cranks out 1,454 horsepower at 7,600 rpm and 1,064 lb-ft torque at 6,900 rpm – and sounds hella-nasty in the process. Morris notes that the carburetor isn't even the
perfect unit for the combination and that the engine could make more power with dialed-in equipment on top.
Crank up the speakers and let your clicker-finger fly!
The full article can be found at the following link: Steve Morris Engines on Chevy Hardcore
March 24, 2015 - enginelabs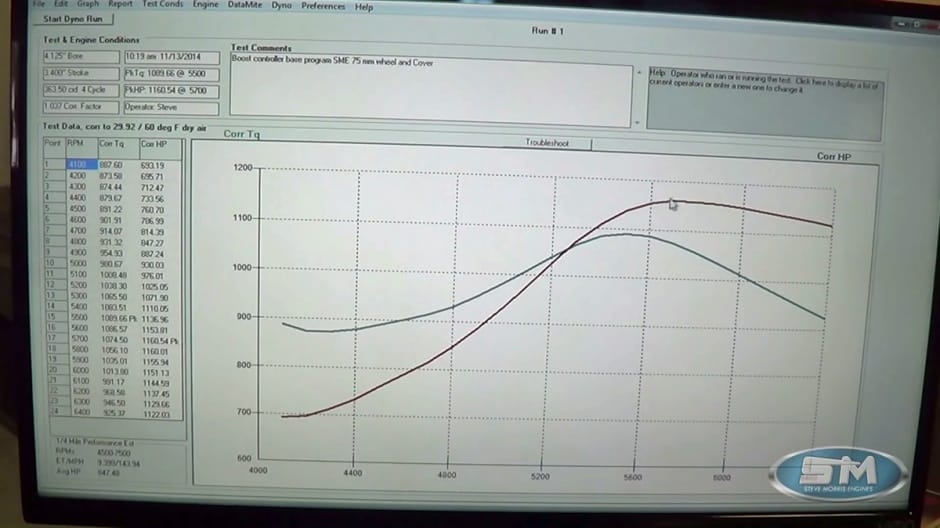 Our friends over at Steve Morris Engines have developed some of the world's most powerful turbo- and supercharger-based engines, using their extensive research and development over hundreds of hours on the dyno to craft engine solutions for their customers. Their newest design is an engine targeted toward the late-model crowd; an LS3-based engine crafted to accept the customer's choice of power-adder.
Stories abound on the internet about LS engines that were pulled from a junkyard, placed behind a turbocharger or supercharger and abused to death – literally. In this case, SME started with a GM crate LS3, but made extensive changes to the block and heads to help them live at these power levels.
"The original idea behind this was to design a custom rear-mount turbo kit for Steve Morris' 2006 Trailblazer SS. We spent some time building the piping for this kit while we made the enhancements to the LS3 engine. Once completed, we tested with the rear-mounted turbo. As we began testing, we decided to also make a quick front-mounted turbo kit and see how far we could push it safely for our customers," notes SME's Alex Esnaola.
The LS3 block and cylinder heads have proven to be durable; the engine began life as a brand-new LS3 crate engine from Chevrolet Performance, but Morris and the gang put their own custom touches on it, upgrading many of the internal components substantially to handle the extra power.
"This engine package was designed to offer a quality, viable alternative to junkyard engines with low-quality (and rather questionable) components," says Esnaola.
Using the same stroke and compression ratio as the stock LS3, SME upgrades the connecting rods (the downfall of the stock engine) with a set of forged H-beam rods andARP 2000 bolts. Included in the rotating assembly is a set of custom 2618 forged pistons from Diamond Racing. These upgrades ensure that the engine will handle up to 1,200 horsepower.
Depending upon customer requirements, the engine is also outfitted with one of Morris' custom hydraulic roller camshafts, a valve spring upgrade, ARP head studs, hardened pushrods, and a set of MLS head gaskets.
The development engine in the video wears a single 75mm custom SME-spec turbocharger, manufactured exclusively for SME by Bullseye Power. They've also engineered an air-to-water intercooler, use the stock intake manifold and in this particular instance, a set of flipped Hooker 304 stainless-steel exhaust manifolds. The rest of the exhaust was constructed from 304 stainless material sourced from Stainless Works, including one of the company's mufflers.
Not only does the platform perform well with a turbocharger – as you see in the video – but it can also be customized to use whatever form of power-adder the customer wants, from a different turbocharger, a positive-displacement supercharger, or a centrifugal supercharger.
" We ran seven different "popular" camshaft profiles, along with our own in-house design. We made the changes so frequently, that it became a contest to see just how quickly we can go from a running engine to a running engine – just under 35 minutes, by the way. This level of development and testing is yet another example of how we differentiate ourselves from 'one-man band' operations. It comes from many years of engine development and optimizations – not from theory or speculations," Esnaola says.
Fueling is provided by a custom in-tank twin-pump fuel system, and the engine's fuel and timing curves are controlled by a complete Holley Dominator EFI system. Esnaola raves about the Holley's configurability and ease of use in changing and controlling engine parameters – SME uses the system in the majority of their high-end builds due to this.
"The Dominator controls all of the engine functions, boost control, and transmission controls. The touch-screen display allows for speedy tune-up changes on the fly," says Esnaola.
Owing to its budget-friendly roots, this LS3 engine has been developed to make max power low in the powerband; doing so keeps the engine stresses down, allows the use of the hydraulic roller camshaft design, and promotes durability. Don't think it hurts power production, though – the engine pumped out 1,160 horsepower at 5,700 RPM and 1,189 lb-ft torque at 5,500 RPM in the video.
"We engineered sensible upgrades for reliability on pump gas. After the camera stopped rolling, we upped the boost to 19.5 pounds and made 1,218 horsepower," says Esnaola. This is simply an insane amount of power for a vehicle that will see actual street use – and regularly – on the roads in Western Michigan, where SME is located. We're sure a fair amount of track time will also be on tap, as the company works to find the limits of the Trailblazer's performance.
In this instance, Morris has the engine set up to use a boost curve topping out at 18.3 psi to prove out his development process, but the team achieved a bigger number later on during the testing phase.
"This truck also features more than meets the eye. The truck received a custom-built 4L80E transmission, custom-stall torque converter, and a Borg Warner 4485 transfer case from K&M Transmissions in St. John, IN. SME designed and machined a custom intermediate shaft for the front differential, custom front and rear driveshafts, and performed a refresh of the front differential," says Esnaola.
Amazing to see how much horsepower the stock block and cylinder head castings will support – on pump fuel, no less – with the right internal upgrades and external supporting parts.
"It is interesting to note that during the development of the turbocharged version of this engine package, we ran numerous camshaft profiles, a variety of turbochargers, turbine wheels, housings, etc. This little engine package saw over 100 engine dyno pulls with no issues whatsoever!" says Esnaola.
The full article can be found at the following link: Steve Morris Engines on Chevy Hardcore
October 7, 2014 - enginelabs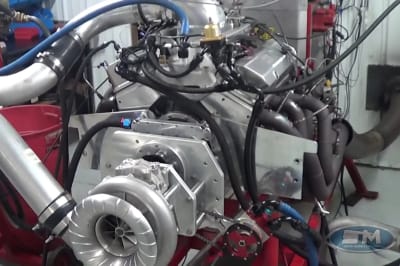 In the world of competitive drag racing, prying secrets out of a racer or engine builder is a tall task, as each incremental improvement is hard to come by and often costs cubic dollars to achieve. The guys at Steve Morris Engines up in Michigan recently put together this 23-degree small-block Chevrolet for customer Domenic Friguglietti and did some dyno testing with a variety of superchargers on board, seeking that competitive edge.
It's not often dyno video even exists on one of these combinations, let alone one where the torque, boost, and horsepower numbers are shared with the public. Friguglietti competes in the Midwest Outlaw Racing Series, the NMCA's Xtreme Street class, and other venues with his fourth-gen Camaro, and has been working towards finding a home at the top of the heap by sourcing the expertise of Morris and his team.
According to SME's Alex Esnaola, "We cannot go deeper into the inner workings of that engine, other than what Steve mentions in the video. As you well know, engine building at these levels is a cut-throat business. Others would love to know what we did to make that kind of power."
He did tell EngineLabs that the engine uses a set of custom 23-degree inline-valve cylinder heads designed to make big horsepower through the use of one of SME's custom-designed camshafts and the gear-driven Vortech XB-105 supercharger mounted to the front of the engine, sucking through one of SME's Pro-Volute systems. The entire engine was machined, balanced and assembled in-house at SME, and uses a Holley Dominator EFI system to control the engine's parameters, also tuned in-house by SME.
The engine is run up to 7,200 rpm, makes just shy of 30 pounds of boost pressure in the process, and twists the dyno to 2,025 horsepower. Morris also shares some other details of the engine's performance, along with its capabilities when various ProChargersuperchargers were used in testing with the same powerplant.
Turn up the volume and enjoy the sound of this insane small-block on the dyno!
The full article can be found at the following link: Steve Morris Engines on Chevy Hardcore
July 31, 2014 - chevy hardcore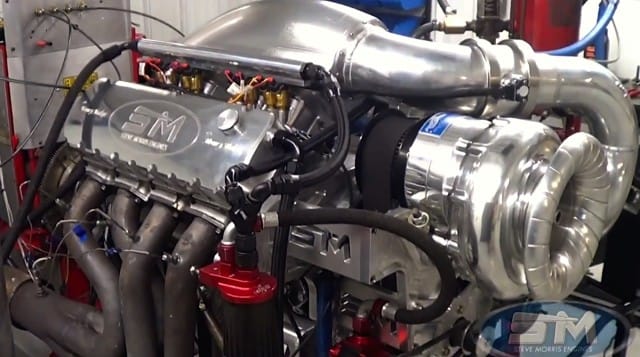 The title is correct – this incredible engine spins to 8,100 rpm and cranks out nearly 3,000 horsepower and over 1,900 foot-pounds of torque from a big-block Chevrolet foundation. Built by the incomparable Steve Morris and his gang at Steve Morris Engines in Michigan for Top Sportsman customer Tony Braglio, it's a departure from the norm from a typical Top Sportsman engine. There's a honking ProCharger F-3R-136 with one of Morris' ProVolute inlet bells mounted to the front of the assembly instead of a couple of guns of nitrous plumbed in.
The engine is based around one of Morris' 540-cubic iron-block packages, including a crankshaft from Callies, Diamond pistons, and 14.5-degree Brodix cylinder heads that have been treated to the full Morris modification list. Jesel rocker arms are used, a pair of Turbosmart USA blow off valves are installed, and other supporting parts including the oil pan are from Moroso.
The sweet, sweet jewelry atop the engine is one of Morris' billet intake manifold designs that provides a low profile and high performance when fed the boost from the ProCharger. To support the horsepower, 16 Moran Motorsports fuel injectors — evenly split between 325 lb/hr and half 500 lb/hr sizes — stuff in methanol from a Waterman fuel pump. Engine tuning is handled by theHolley Dominator ECU.
The engine is designed to be dependable and repeatable, as Top Sportsman racers don't always have the luxury of an hour or two between rounds of racing. The methanol fuel means no air-to-water intercooler is necessary, reducing weight and adding consistency in terms of operating conditions at the track. The development work that Morris has done with Tom Bailey's "Sick Seconds" Drag Week machine has translated into improvements for the rest of his customers, with the valvetrain in this piece for Braglio identical to Bailey's engine, with easy valvetrain actuation and long service intervals.
The sounds this engine makes on the dyno are just delicious. Go ahead and click the play button, and enjoy some power – 2,955.9 horses worth of power. Insane!
The full article can be found at the following link: Steve Morris Engines on Chevy Hardcore
April 2, 2014 - chevy hardcore

Walking through the pits at race tracks anywhere in the world, you're likely to see plenty of cars with a wow factor, be it in the looks or performance department, but then there are those cars that stop you in your tracks, and Mickey Tessneer's Chevy Nova is one of those very machines.
Tessneer and his crew at Mickey's Chassis Works have built one of the cleanest radial tire cars the world has ever seen. The 1966 Nova known as "The Green Reaper" is about so much more than looking good and going fast — it's about a man, his dream, and a promise to a customer to finish a project.
Mickey's Chassis Works Roots
Tessneer always had an interest in anything car or racing related growing up. As a young kid growing up, he idolized a family friend who owned a shop and would sit in class drawing up ideas for race cars that he'd love to build. The die was cast for his future in racing when he took an agriculture class his senior year in high school where he learned to weld. After graduation, Tessneer worked at a few small companies learning more about fabrication, prototyping, and welding.
Working for others only lasted for so long, as soon Tessneer branched off on his own and began to build race cars. His humble beginnings included doing odd jobs to pay for tools and equipment while working out of his roommate's small garage. All of this was done while still working full-time, but then came the day that that all changed, As Tessneer's hard work paid off and he had an opportunity to start his own shop.
In time, Tessneer's shop was gaining steam with local racers, and a gentleman known only by the name of Doc walked in the door at Mickey's Chassis Works with his 1970 Monte Carlo known as "The Beast". Doc wanted to set the local street racing scene on its ear and was ready to give Mickey a shot at doing some updates to his car.
"Doc pretty well gives me free range with his car. The first thing I did was cut the whole thing apart, and he about died when he saw it." After Tessneer was done with Doc's car it went on to win Cash Days, and that notoriety flooded Tessneer's shop with customers, including Daddy Dave and Monza, of Street Outlaws fame. "We spent endless hours testing and testing on the streets of Oklahoma City. We were finally at a point of making four-second passes on un-prepped, bare concrete."
All of that was great, but Tessneer had a dreams of being a small tire racing kingpin, and those dreams were about to be pushed into motion by another customer, Vern Brown.
The Green Reaper
The story of the Reaper begins with a racer named Vern Brown dream of building a small-tire outlaw drag car. Brown was a good customer of Tessneer's, dating back to 2004, and brought the Nova to him in 2007 as a project car. Tessneer fell in love with the car and led on to Brown know how much he'd always loved the styling of this era Nova. As fate would have it, Brown's health was not doing well and he let Tessneer know this would be his last hot rod he'd have built. The project was put on hold as Brown tended to his health, but even during this time, Tessneer was hatching a plan for what would become a big block monster feeding on lots of boost.
In 2008, Tessneer got the call from Brown saying, "come get the car, it's yours." After the call Tessneer rolled out to get the Nova, where Brown had a title in hand for Tessneer, with no strings attached; except for one, that he would finish the car. Over the next four years Tessneer and his best friend, Ron Plummer, worked on building the Green Reaper.
At the outset of this project, Plummer and Tessneer had no idea how radical of a car they would be building, which features some of the best parts you can cram into a 60's muscle car on leaf springs. At the who, they totally gutted their blank canvas of a 1966 Nova and went to work. Not a single square inch of the car went untouched as they built a killer chassis, picked out their driveline parts, and prepared the body for a yet to be decided color of paint. The documented build thread on Yellow Bullet forum shows the totally epic amount of work, time, and detail that went into this build.
Tessneer and company have built a rolling work of art out of the Nova. The car sports a custom-made 25.5 chrome-moly chassis that was built at Mickeys Chassis Works. A Smith Racecraft bolt-on front end with Santhuff shocks has been implemented up front to hold the Reaper's bullet. Powering the Nova is a Henson Racing Engines-built 518 cubic inch Dart Big M block Big Block Chevrolet. The short block is filled with top-flight parts, including a Lunati Pro Series crank, GRP Rods, a Comp custom cam, and Aries custom pistons. Topping off the mill is a set of Dart Pro 1 355 CNC aluminum heads with a Jesel valvetrain and a one-off Edelbrock intake from Chat Speier Racing Heads. Pushing all the exhaust out is a set of headers fabricated by the crew at Mickey's.
To compete in small tire racing you better be packing a punch, and the F2 ProChargermodified by Steve Morris Racing Engines and driven by a Chris Alston's ChassisworksCDS Component Drive System gear drive does just that. Tessneer uses a ProCharger intercooler, Chiseled Performance Ice Box, and a Vortech Blowoff valve that are plumbed in with custom piping made in-house at Tessneer's Chassis Works.
Of course, all the power in the world is useless unless you have a driveline that can eat everything you throw at it, and Tessneer has enlisted an Ace Racing Transmissions two-speed Turbo 400 for the job. This unit is filled with a Griner valve body, 1-3/16-inch input shaft, custom pump, billet steel forward and direct drums, billet forward hub, billet steel input shaft, and a first gear delete package. A custom M&M converter spreads the power as Tessneer shifts the Precision Performance Products shifter.
The leaf spring suspension was far from overlooked on the Reaper. Calvert Racing split leaf springs and Smith Racecraft traction bars help put the power to the ground, and a McNasty nine-inch rear end from Mickey's Chassis Works filled with Strange 40-spline axles and a Strange Ultra third member put the power to the 15×12 Weld Racing V-Series rear rims. Mickey Thompson Pro 275 drag radials are the rubber of choice on the rear of the car.
Being a perfectionist also led Tessneer to gain a new skill during the build-up of the Reaper: sewing. "After attempting to have the interior professionally done, I wasn't happy with the work I had received. So my mother-in-law spent one Sunday evening teaching me to sew and I redid the interior myself."
Filling the interior with go-fast goodies is another 'skill' Tessneer has. An all-MSD ignition system highlighted by a MSD PowerGrid feeding spark to the car, and information to the Holley Dominator EFI computer. Tessneer wired the car with a Spaghetti Menders race harness.
One of the biggest stresses for Tessneer was what color to paint the car. The final color came from inspiration provided by his wife, who to that point had shown no interest in the car.
"So one day a new Camaro that was Synergy green passes us and it was all she talked about — how sexy the color was. So I surprised her with the paint job being that same color and she is in love with the Nova now…it definitely got her attention."
That Synergy Green paint was laid down by Parker's Auto body on the flawless body work done by George Ray. Ultra Carbon produced the carbon fiber bumpers and hood that accent the car so well.
The car almost didn't make its debut at Lights Out V in February, that is until customer Larry Hare stepped up. With Larry's help, Tessneer and Plummer were able to finish the car and head to the first big race of the year. The first time out with the car netted some great results, running a best of 4.84 at 149 MPH that was good enough for the number four qualifying spot in the ultra-competitive Leaf Spring class.
Mickey Tessneer and his best friend Ron have built a show stopping drag radial car, and their attention to detail and passion for perfection show throughout the Green Reaper's build. With a little more track time there's no doubt you will see Tessneer and his Nova at the top of the drag radial world.
The full article can be found at the following link: Steve Morris Engines on Chevy Hardcore
March 24, 2014 - chevy hardcore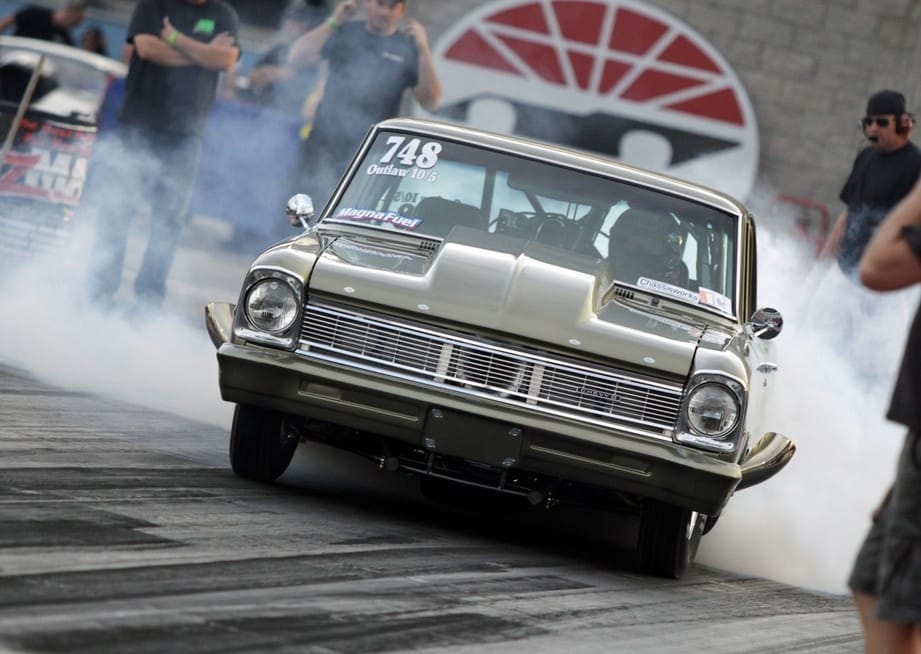 Advancements in camera technology have allowed racers to produce some amazing video in drag racing. You can find footage inside and outside the car, to super-slow motion showing just how teeth-jarring tire shake can be, to uniques ride-alongs on the wheel bars, on the suspension, and elsewhere, giving the world access that only a fly could have enjoyed at one time. Such is the case is this footage aboard Glen Bolz's Nova during a qualifying hit that shows not just the in-car, but under the rear end and a killer shot of the left front wheel as he cranks off a seven-second pass.
Glen built this Nova from the ground up, and its no joke. A chassis that's certified and capable to run deep into the sixess sits under the car's green skin. During the cars' trip to the 2013 SCSN race Glen had the Nova making passes in the 7.50's at over 184 mph. Motivating the car is a 540 cubic inch Dart block rat motor that was built by Steve Morris Racing Engines. The engine is topped off with Dart heads, a Holley Dominator fuel injection system, and an Edelbrock intake plumbed with Precision Turbo 225 pound injectors. Providing the boost is a massive F-3R-139 ProCharger that's strapped to the front of the engine. All of this is good for over 2,200 horsepower.
Bolz relies on a Hughes Performance XP4 Pro Mod Powerglide transmission and a GM107 billet torque converter to back all that power up.
In this video you really get the feel for how wild a 7.25-second blast at 193 MPH down the quarter mile is. Looking at the footage from the back of the car facing the rear end everything seems tame during the burnout, and rather uneventful as the pass goes down. The in-car shot looks a little more intense as you can see Glen wheeling the car and throwing the laundry at the top end. Now, the money shot is the one of the front wheel. After the launch of the car you can see the Nova hang the hoops WELL past the sixty foot marker, and then just skip off the track surface during the entire pass. If you have any friends who think drag racing is easy, let them take a look at this video!
The full article can be found at the following link: Steve Morris Engines on Chevy Hardcore
December 7, 2015 - hotrod magazine
Watch This 16-Cylinder, Quad-Turbo Monster Make 4,500 hp on the Dyno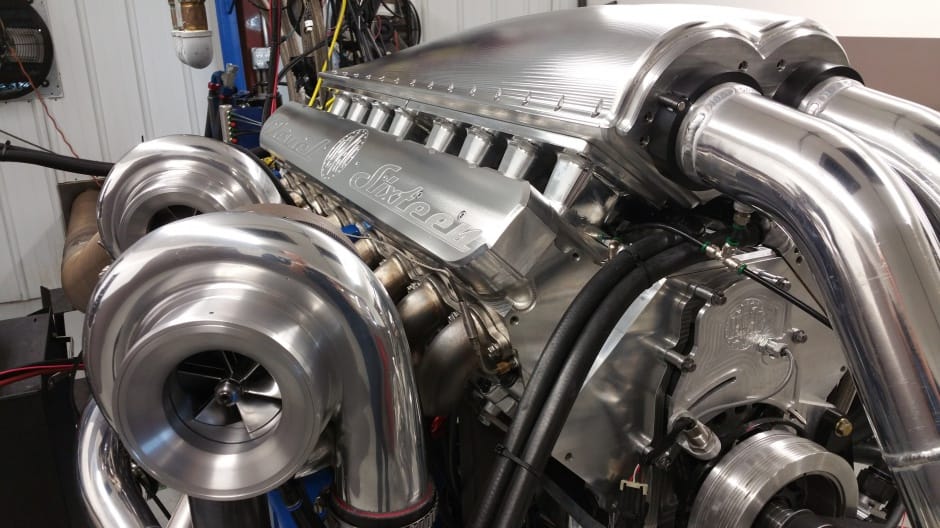 From Davis Three-Wheelers to the cocaine-dusted dash of a DeLorean, car companies promising wild performance or innovation can't always deliver. In 2013, video surfaced from the Dubai Auto Show of a new high-power hypercar ready to blast all previous records of performance and luxury, and most auto outlets took one look at the Devel Sixteen and called BS. The prototype claimed a 5,000 hp V16 capable of 1.8-second 0-60 times and a top speed of almost 350 mph. A few slow speed videos floated around the internet and we all forgot about it.
When you next hear about the Devel Sixteen, there will be some truth to its claims—at least about the engine, because famed street car and Pro Mod engine builder, Steve Morris Engines is the shop behind the quad-turbo, sixteen-cylinder insanity. When Steve Morris says, "Yeah, it only makes 4,515 hp and 3519 lb-ft of torque so far," but then says he's working on a race version, you can be pretty sure that he'll be delivering on promises of 5,000 hp.
Steve couldn't tell us much about the car the engine will go in, saying only that the company has some lofty performance goals, and that "Making power is not the problem, making the car work with the power is." With that in mind, let's look at how Morris made the power.
In the video Morris talks about the billet block, the custom heads, intake, the quadruple 81mm turbo system, and the five-stage, dry-sump oiling system. The engine is exotic, although Morris says the components are pretty standard aluminum and steel. It's a 9.0:1 compression ratio, fully water-jacketed, 32-valve, fuel-injected, 754ci (12.6L) V16. The entire engine was designed and machined at Steve Morris Engines (SME) except for the block, which SME sent out (with designs) to a facility with larger machining capabilities.
Steve Morris Engines has 1 1/2 years into the prototype which Morris says is not exactly based on an LS or big-block Chevy, but is heavily "influenced," by both. "I approached this thinking, 'Ok, you want a 5,000hp V16. I don't know Formula One engines or Lambo/Ferrari/Volkswagen engines, but I do know a lot about American race engine stuff, so it is influenced by what I know." The end result is a unique engine design, not an extended Ferrari V12 or two V8s welded together.
Morris doesn't have pricing yet for the engines, but he pointed out that the material for the block alone cost him $13,000. "You can start imagining from there," he says.
The Devel Sixteen engine is not the first custom powerplant to come out of SME. Even the more traditional American V8s the company is known for have little in common with a production part, or with each other. "I have not built more than two engines the same for the last 10 years or so," Morris says. "I don't buy parts and bolt them together—wish I did sometimes, probably better money in it."
It took more than 2,000 hours of machining to complete the new V16 and there will be more if it goes into production. "This is just a prototype, so I didn't lighten it up as much as I could." Steve says. "I didn't weigh the whole thing, but I think the crank alone weighs about 125 pounds." The plans for a production version would involve casting a block and heads, so that would cut down a little on Steve's machine-time.
Other fun specs include a current oil capacity of 15 quarts, a custom belt drive, and a 16 injector (one per cylinder) EFI. When asked which development issues were the most difficult, Morris named pretty much every element of the engine. "EFI, block, heads, oiling, cooling…we just kept working through it."
The result of Steve's patience is 4,500 hp, so we're glad he kept at it. Hopefully we'll see more of this engine in 2016. Steve says he'd love to bring it in a car on Drag Week. Talk about Unlimited!
The full article can be found at the following link: Steve Morris on HOT ROD
September 29, 2015 - hotrod magazine
Home-Built 705-horsepower 1962 Chevrolet Nova Street Machine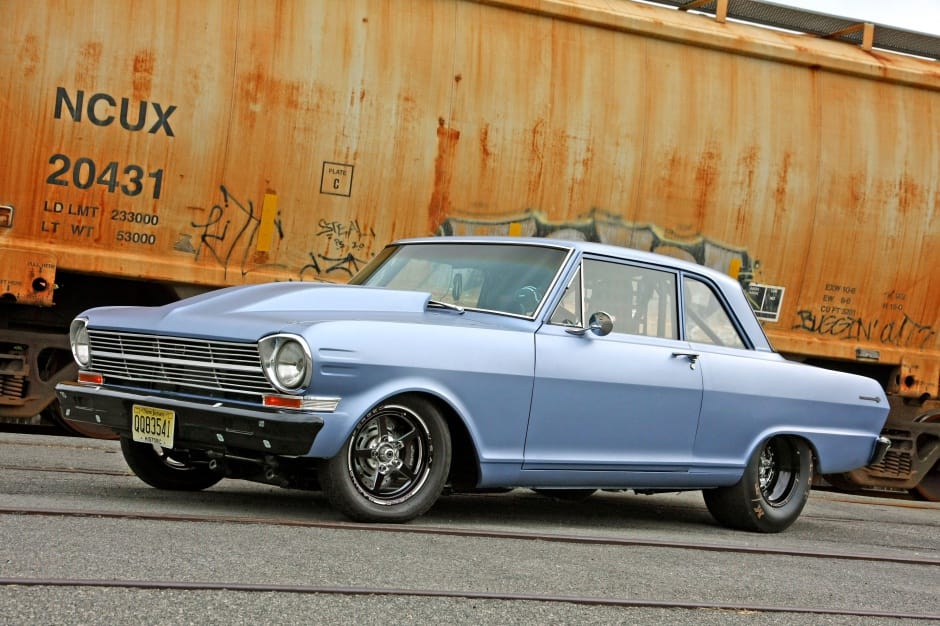 Lights Out: Blown big small-block in a little blue box
It was that damn Chilton manual; that's what it was. Tom Meyer's dad showed him one before he was even a teenager … and sowed a seed or two. That's how the whole thing exploded and has continued to do so his entire adult life.
Tom, now 43, has always had a yen for box Novas … and for knowing how to do things himself. He bought his first box when he was 15. Had no driver's license, but he had the car: a 1969 vintage. "When I was 19," he continued, "I had a '64 Nova … and I kick myself in the ass for ever selling it."
So, yes, Tom has maintained motorhead reverence ever since that pivotal day with his dad. He's the head technician and fabricator at Spencer's Cycle Shop in Belleville, New Jersey, building custom Harleys, crafting custom bits, and managing the dynamometer. He and owner Mark Spencer (a longtime engine builder and drag racer) knocked their heads together for the design of this '62 Nova.
Then Tom and his brother Rob piled up the little bitch in Tom's seriously one-car garage. Yikes! We've seen walk-in closets bigger than that room. The brothers hadn't more than two or three feet of free space around them in any direction, thus magnifying the inevitable frustration and the degree of difficulty.
Despite the semi-hostile surroundings, the Meyers completed the process in a little less than a year. Tom bought the Nova on a Labor Day weekend and finished it up one year later. He found a stick axle, gasser-like apparition up the road apiece in Mystic, Connecticut. He had a mind to refurbish the shell, complete with back seat and some amenities not found in an all-out race car. "Originally, it was to be built as a street car with a 355 and with a back seat and everything else," said Tom. Then a curious thing happened, the kind of thing inspired by curious minds and talented hands. "Turning me and my brother loose in the garage with a welder, one thing led to another and the next thing you know it was a full-frame car with a full 'cage and mini-tubs to fit 10-inch wheels under."
Although Tom's runner looks like a race car absolute, it really isn't. It's a brainy throwback to the notion of street-and-strip, that old-days tribe meant to beat the boulevard as well as the quarter-mile. The challenge was to build a plant that would be docile enough for traffic and boisterous enough for dragstrip tarmac.
"The first motor wound up being a 400 small-block with a big Dominator carburetor and monster cam," said Tom. "It ran a 10.57 e.t. After a while, we realized that we could go faster with a ProCharger and still keep it streetable. Because he rolls up the odometer about 3,000 miles every year, Tom figured that the 406 should be an amiable performer on public roads.
"We knocked the top end off of it and lowered the compression. That's basically the motor that's in it today. With 10 psi boost, it goes 9.55 at 147." He and Spencer filled that stout Little M cylinder case with a high-quality lower end – Callies crank and rods swinging SRP pistons – and capped jack-in-the-box with top-notch 23-degree Air Flow Research cylinder heads. For the induction parade, Tom got some heavy input from Steve Morris Engines in Muskegon, Michigan. Morris conspired with Bullet Cams for phasing a bumpstick that is somewhat milder than the natural aspiration combination. On top of that, Morris is a whiz with ProCharger products.
So just about the time the Nova would have been trundled off to paint jail, Tom stepped up and did the bodywork and applied the understated Scion tC blue as well. Since that phase was physically impossible in his one-car den, he availed the facilities at Spencer's Cycle … and didn't break too many EPA rules in the process.
We didn't have to ask Tom what he would be doing to the Nova next. Nope. He'd already done that. Since these images were recorded, he's made upgrades that increase efficiency and magnify its pit-dog tenacity. He knew that cooler charge air would produce more power more reliably, so the Nova now has an air-to-water aftercooler between blower and motor. Elsewhere, Tom grew a shelf wing from the deck lid and hung a big Simpson umbrella beneath it. He put 17-inch 2.0's on the plowing end and replaced the original Weld AlumaStar 2.0 forgings with Bead-Locs on the drive wheels.
In any case, Tom Meyer and his boss Nova could be the next scourge of Bergen County. He's got great street creds on top of a kick-ass drag race car … and he did all the important work himself. That's the essence of the hot rod game. You build it, you run it, you can't go wrong. You might want to remember that if his blue box burps up alongside you at the next light … at night. Could be lights out, Chief.
The full article can be found at the following link: Steve Morris Engines on HOT ROD
September 19, 2015 -hotrod magazine
Tom Bailey Wins Drag Week 2015! Pro Mod Camaro is our Fastest Street Car In America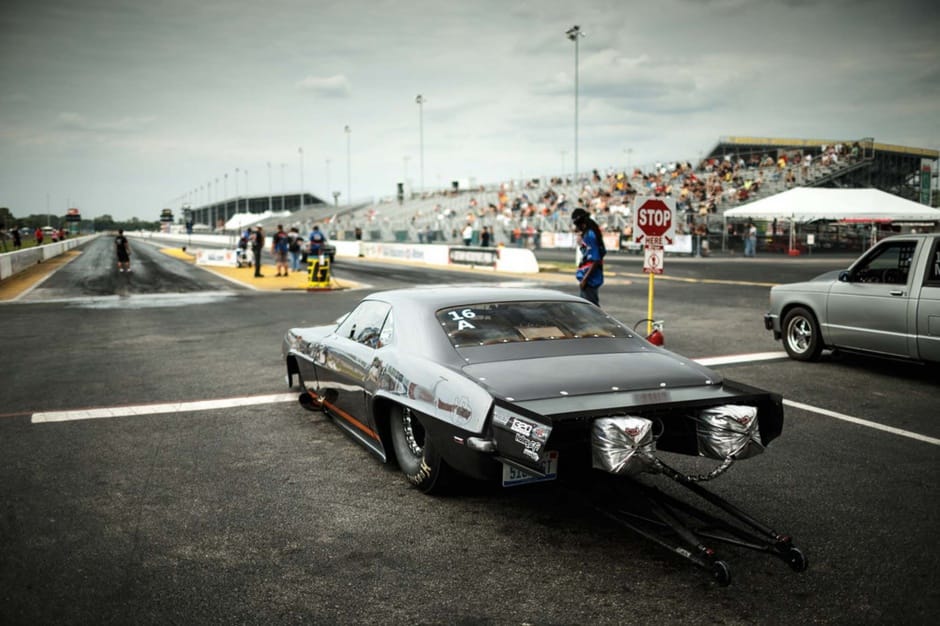 We have watched this whole week as Tom Bailey snuck up on another Fastest Street Car in America record each day of Drag Week 2015. On the last day at Gateway Motorsports Park, with Drag Week almost over and nothing much left to lose he pedaled his Sick Seconds 2.0 1969 Camaro to a 6.87 at 227.11 for the 2015 Drag Week Fastest Street Car in America trophy.
His first pass Day 1 was soft with fuel management issues seeming to be just some of the car's problems. With Jeff Lutz running a 6.051 at 251.95 at the Test 'n' Tune on Sunday it seemed like Lutz could be crowned Drag Week 2015 king on Friday. Then Lutz dropped out on Day 2, and Bailey clipped off a wicked 6.35 at 224 mph Drag Week pass.
With more 6-second passes and minimal issues travelling the 1,200-mile trek to Day 5, Tom's no-drama showing this year made him the official Unlimited and overall winner, but that doesn't tell the whole story. Bailey had extra impetus to win for his engine builder and usual codriver Steve Morris of Steve Morris Engines. Steve was in a motocross accident just weeks before Drag Week, and has been watching the race from a hospital bed in a neck brace. Not what anyone wanted! Ryan Witte has done an admirable job representing Steve Morris engines and helping Bailey navigate and change tires throughout the week, but we all missed Steve.
Hopefully seeing his 615ci engine power the 2015 Drag Week champion soothes the pain in his neck.
Bailey first won the Fastest Street Car In America crown back at Drag Week 2013 with his original Sick Seconds 1969 Camaro, running a 6.78 at 217 mph. Now it's two Drag Week wins for Bailey. At the awards presentation, a gracious Bailey praised all of the participants, acknowledging Jeff Lutz's incredible first-day pass, and assuring everyone that they'd see a good show in 2016. The normally circumspect Bailey then left the stage with this swipe, "We'll be back, I know Lutz will be back, maybe even Princess will be back." Read into that what you will. You can watch Bailey accept HOT ROD's Fastest Street Car in America award in the video link bellow.
Congrats to Tom Bailey and all of the Drag Week participants. Drag Weekers, be proud, getting through the entire event is like finishing the Iron Man Challenge of drag racing.
Dates and Locations
• Sunday, September 13, 2015 – Gateway Motorsports Park, Madison IL (Tech registration and Test 'n' Tune runs after 4 p.m.)
• Monday, September 14, 2015 – Gateway Motorsports Park, Madison, IL (Day 1)
• Tuesday, September 15, 2015 – Lucas Oil Raceway, Indianapolis, IN (Day 2)
• Wednesday, September 16, 2015 – Great Lakes Dragaway, Union Grove, WI (Day 3)
• Thursday, September 17, 2015 – Cordova International Raceway, Cordova, IL (Day 4)
• Friday, September 18, 2015 – Gateway Motorsports Park, Madison, IL (Day 5)
• Saturday, September 19, 2015 – Gateway Motorsports Park, Madison, IL (HOT ROD Drag Week Heads-Up Event)
The full article can be found at the following link: Steve Morris Engines on HOT ROD
September 17, 2015 - hotrod magazine
Make a 6-Second Pass In Tom Bailey's Pro Mod Camaro on Drag Week 2015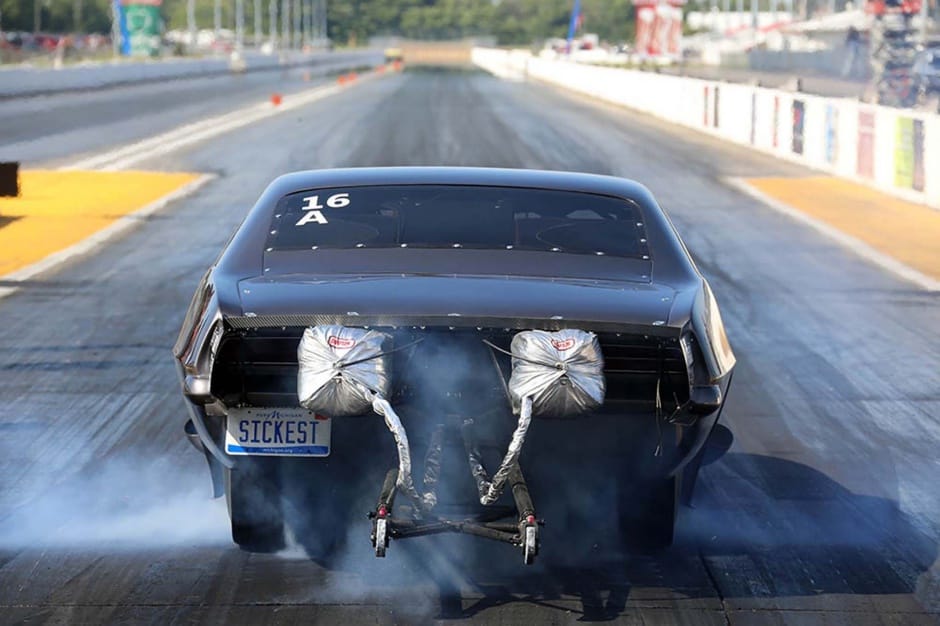 With Jeff Lutz out of Drag Week 2015 after Day Two, the pressure was off Tom Bailey to best Lutz's Pro Mod car for quickest e.t. average. But that doesn't mean that Bailey had it easy. On Day Three of Drag Week 2015, Bailey's Steve Morris-built twin-turbo big-block was only running on seven cylinders. Which meant the 3,200hp engine was down around 400 hp. But as you'll see in the video, Sick Seconds 2.0 is still brutally fast.
The full article can be found at the following link: Steve Morris Engines on HOT ROD
September 11, 2015 - hotrod magazine
Breaking in a 5-second Street Car With Tom Bailey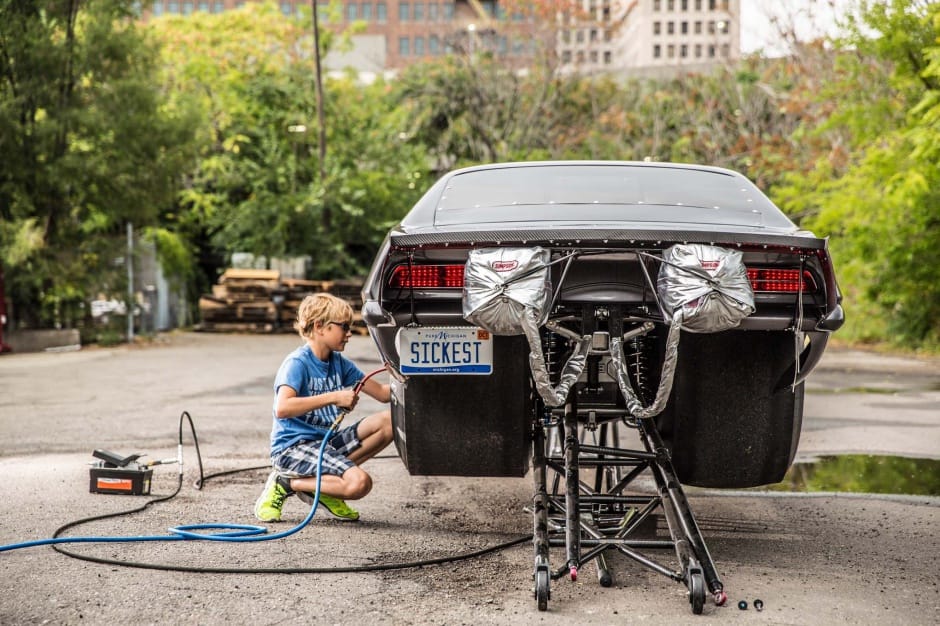 The only way to know if a car is ready for Drag Week is to take it out in your neighborhood, even if it's a wild, long-wheelbase Pro Mod named Sick Seconds 2.0
"Nah, nobody really cares much when we take it out," Tom Bailey told us when we asked how his new 1969-based Pro Mod, street-legal Camaro was received on the streets near his home in Michigan. With typical Bailey understatement he went on to compare it to his 2013 Drag Week winning Sick Seconds Camaro, referring to the two cars simply as "1" and "2."
"With 1 you could pass as just a regular '69 Camaro, this new car looks a little more like a race car." Yeah, you think? It's just a tube chassis with a 115-inch wheelbase, six inches cut from a stock Camaro's width and two inches trimmed from top to bottom. Park it between two Carollas and you won't even be able to see it over their rooftops. We'd argue that Bailey's first Camaro wasn't exactly flying under the radar either, but Sick Seconds 2.0 is wild even by Drag Week standards.
The original Sick Seconds car was a fiberglass body over a tube chassis, but it was based on stock 1969 Camaro dimensions. Other than a few small modifications for tire clearance, the car was sized like a factory machine. It was also very heavy compared to the new car, which makes generous use of carbon fiber everywhere from the body to the brakes.
"The whole body weighs 55 pounds," Bailey says. "Paint added eight pounds, so 63 pounds total. The hood on the old car probably weighed that." No hood on 2.0, its whole front end comes off in one piece. "It takes a little more space, but it's only 10 fasteners to remove, so it will probably be faster than the hood was to take it on and off." Plus you can't accidentally drive off with it on the roof.
Many of the changes to 2.0 had to do with streamlining the street to strip and back-again process. "In two clicks of a switch I can take it from street mode to race mode," says Bailey. One switch changes fuel systems from the single fuel rail for pump gas to the dual rails and larger injectors set for methanol, and the other switch changes the tune and turns off the electric fuel pump in favor of a mechanical one. A single air shock in the rear can raise the ride height—Afco adjustables do the main damping duty back there, alongside a Strange 9-inch stuffed with 3.89 gears. In the front the strut mounts for the Santhuff struts are moveable, and a half turn raises the nose 2.5 inches to clear those nasty potholes and gas station driveways.
While the changes do make the morning and afternoon's work easier, there's not much that will ease the difficult journey between tracks. The seat is a low, little, scoop of carbon fiber surrounded by 'cage. Shifting the Gear Vendors equipped Rossler Transmissions TH210 is done with a manual valvebody and braking needs to be planned for ahead of time. Unlike the carbon-ceramic rotors in say, the 2014 Camaro Z/28, the Strange racing carbon brakes needs some warm-up time before their whoa goes into effect, so the driver needs to be alert. Shouldn't be too much trouble to stay awake, it's not like you'll be lulled to sleep in 2.0. The interior is sparse in padding and full of electronics, air shifter, parachute lever, and various Holley monitoring screens. "I wanted air conditioning, but it just added too much weight," Baily says, sadly. "It does have power windows though!" Well, at least nobody will be hitting their knee on any pesky window cranks.
Bailey had big plans for a billet-block behemoth to power 2.0, but custom parts don't always come on schedule, and nobody planned for a disaster a few weeks before Drag Week. Engine builder Steve Morris was in a nasty motorcycle crash, and while he'll be ok, he won't be standing at an engine assembly table in time for first runs at Drag Week 2015. "The engine that was in the car was a test piece, made out of all the parts we'd broken in Sick Seconds 1," Bailey says. "We ended up pulling the good engine out of that car, and fitting if for the methanol injectors." Other minor changes include a Steve Morris billet intake and MGP aluminum rods. If you don't remember all the details from that build, it's a dry sump 615ci Brodix block with a twin-turbo set-up. "We might run 94mm or we might run 98mm [inducer diameter turbos], we haven't ever really noticed a difference." Either way, there will be two of them, and they'll say Precision on the side.
"We had an aggressive goal, and we're only now where I'd like to have been in June, 2015, but we've been on track, we've been on the street. It has about 60 miles on it. If we can get it to stick, we'll be fine."
Stick to it Tom, we'll see you Sunday, September 13, 2015.
The full article can be found at the following link: Steve Morris Engines on HOT ROD
March 6, 2015 - HOTROD magazine
1966 Chevy Nova - Bite Marks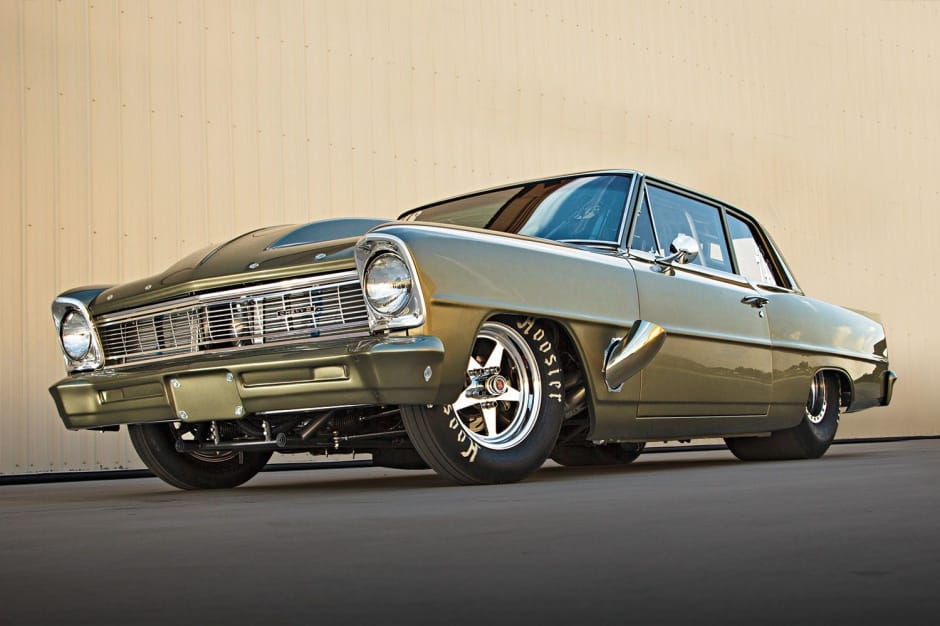 Great Googly Moogly! Glen Bolz Builds a Hot Rod
No doubt, our protagonist has the talent and the skills required for the planning and execution of this kind of stuff. He's a thorough genius as well and he assembled and disassembled the piece several times before it got his and the NHRA tech's stamp of approval. He found the not-so-winsome warrior down in Tucson (he lives up the road in Chandler), Arizona. A good thing. It was owned by the same family who purchased it new in Mesa. It came with the Protect-O-Plate and the owner's manual. More good things.
Then … "The owner had gutted the car and installed an aftermarket mild steel chassis. The quality was poor so I pulled the body off and started fresh. I built a steel plate table with fixtures to mount the main 'rails of the new chassis and started fitting the tubing. We kept lifting the body on and off until we were happy with the fit. After the NHRA tech passed it, I TIG-welded everything up and put the body on," Glen Bolz says.
From there, Glen assembled the car, wired it, and made it run. He drove it around a little and then blew it apart again for paint. After he removed the wiring, fasteners, and hardware, he took the body to a local paint shop known for its outstanding work. His choice did not disappoint. He got a great product, wouldn't you agree? Thereafter, things moved along very rapidly. Glen screwed his car back together and got it running in November 2012. A couple of weeks later, he made his license passes at Speedworld amidst a slew of Jr. Dragsters. "The track wasn't prepped, but we pulled out just enough to win the Turkey."
We all know that humility is much more palatable than hubris, and this is where it gets real. Glen is not one to pose or elicit brash statements concerning his ability. He knows what he's gotten himself into and thankfully, he left his raging testosterone still raging when he was in his twenties (now he's 43). Older and wiser, he commented frankly on the education process ahead of him.
"I am still learning to drive the car," he says. It's my first real race car, and I'm taking it easy. I have run out the back at a slow 9.03, but at 180 mph. During our last track day I started getting used to launching it. I ran an 8.19 and shut off early and coasted through at 120. The car is fast. I'm not so fast. Once I get more seat time, the car will run high 6s at over 200," Glen says.
Race car or not, Glen's Nova is a real looker, too. At the 2013 Grand National Roadster Show, it took Best in Class, Outstanding Vehicle, and Best Performance Vehicle. Great googly moogly!
Chassis
Glen prepared his ground-up build with a chrome-moly tube chassis that is double certified 25.2 and 25.4 (6.0 seconds). For an extra safety measure, he included a Pro Mod–style full-length chrome-moly driveshaft tunnel. Steve Morris machined a front motor plate to stiffen the front of the car and situate the block. The front suspension is strut-based, employing adjustable Strange coilovers (250 lb-in spring rate) and the Strange rack steering system controls Strange spindles. Glen located the Bickel housing with a wishbone arrangement and 135 lb-in Strange springs on Koni double-adjustable dampers. A 1.25-inch diameter antiroll bar helps on the launch and keeps the car straight down track.
Wheels & Brakes
That pale ginger paint is nicely offset by Holeshot hoops all around. In front, Glen uses 15x3.5 with 24.0/5.0-15 Hoosiers. Further back, 15x15 beadlocks cuddle up to some very serious 33.0x14.5 Hoosiers. The energy burners are Strange Engineering discs, front and back.
Body
A desert dweller since birth, the Nova was never scoured, abraded, or set to with rot, so Hot Rods by Dean in Phoenix didn't face much sheetmetal replacement, but according to the Nova's very fluid flanks prep time must have been considerable before the racer got its clothes. Save for the sheetmetal wing extending from the trucklid, the body is stock. Although Dean applied the PPG Ginger Ale he didn't (Glen: "never, no way, absolutely not, don't ask, forget it") muddle the field with graphics, stripes, or any other diversion.
Interior
Take one last look at this pristine oasis. It will never be this pure again. Despite the spare accommodations, Glen has dutifully managed to keep some of the Nova's originality with a full factory headliner, door panels, window cranks, and handles. All the windows are glass and the OE regulators are still intact. Glen is very diligent about keeping himself whole and intact should something unpleasant occur. Beyond the parachute and the miles of chrome-moly that web him, he's incorporated a Safecraft 10-pound fire suppression system, two nozzles on the motor and a third one by his feet. Hot Rod Interiors by Glenn did the interior. He did the seats in DJ Safety fire retardant covers. The other Glen put up a Beretta dashboard in place of the original as well as a carbon-fiber panel for the electronics. The other critical items within reach are the Grant steering wheel and the Precision Performance ratchet.
The full article can be found at the following link: Steve Morris Engines on HOT ROD
March 5, 2015 - HOTROD MAGAZINE
EXCLUSIVE: Tom Bailey's "Sick Seconds 2.0" 300mph Standing Mile-Five Second In the Quarter 1969 Camaro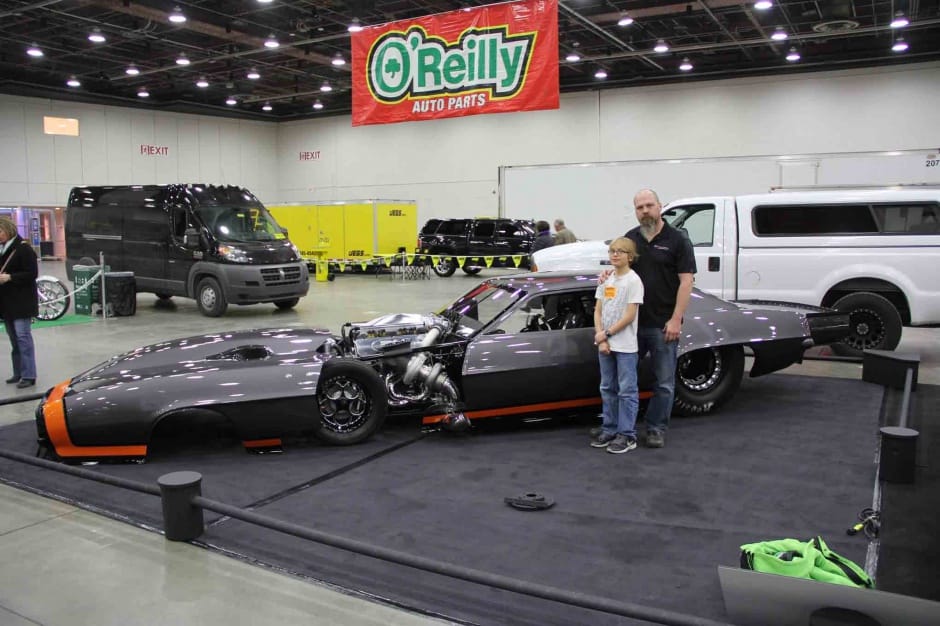 Tom Bailey's goal is to go fast and quick—and do it in a street-legal 1969 Camaro—or, at least, a reasonable facsimile of one. That's the goal; this is what he's constructed to make that goal a reality. Bailey's Camaro landed at the 2015 Detroit Autorama, and we got the firsthand particulars of how this goal materialized.
After winning HOT ROD's 2013 Drag Week, Bailey decided he would like a 1969 Camaro that could participate in more than just one event a year. He wanted a car he could race in Pro Mod, but one that was also street-legal and would satisfy all of the parameters to still participate in Drag Week.
Bailey commissioned Keith Engling at Skinny Kid Race Cars (SkinnyKidRaceCars.com) in Commerce, Michigan, to handle the tube chassis. The rearend features a Skinny Kid housing with Strange 9-inch with full-floater wheel hubs and axleshafts, a four-link suspension, and Afco shocks. The Pro Mod–style front end uses Santhuff struts, with Strange carbon-fiber brakes all around. A Stiletto rack steers the front, which can be raised 2½ inches for street driving by turning a nut on top of the struts.
Joe Van Overbeek was called on to construct the carbon-fiber body, which even includes power windows. The body is 6 inches narrower in back than a stock 1969 Camaro and is sitting on a 114-inch wheelbase. The body features a front air dam and skirting to help plant it during those standing-mile runs. For drag racing, a block-off plate clips over the grille. As you see it, the Camaro weighs 2,400 pounds.
Now to the engine. It's a 615ci Brodix block with cast Brodix heads massaged by Sonny's Racing Components. Sonny's did additional porting and changed the valve angles. Twin 94mm Precision turbos spool through Stainless Works stainless exhaust, with Turbosmart wastegates and dual 4-inch Wilson throttle-bodies. Two sets of injectors are plumbed into the Steve Morris two-piece intake manifold. Bailey said when he went from a cast intake to one of Morris's billet intakes, he picked up 150 hp on the dyno. One injector set is for gas and the other for methanol. How do you change engine settings? With Holley's touch pad, which allows for programming tune changes; hit one button for the street tune and the other for race tune. Holley EFI controls the engine functions. Ignition coils are mounted under the dash. An electric fuel pump handles the gas, while a mechanical pump shoots the alcohol. An Apco custom radiator with twin electric fans cools things down, and the oil is pumped through a Peterson dry-sump setup.
The engine you see is a twin to Bailey's 1969 Camaro Sick Seconds' 1 engine, except for the alcohol, which only helps a little in the power department, but saves weight without the need for an intercooler. It weighs 700 pounds less than the billet motor he's building for Drag Week.
The Drag Week engine will be all billet aluminum, with water-jacketed heads and block for cooling. Passages will also be milled into the block and heads where space allows. There may even be external water-cooling lines. Could this engine make 4,000 hp? We don't know yet.
A Rossler 210 Turbo 400-based three-speed with Pro Torque torque converter is tied to two Gear Vendors overdrive units for the standing-mile attempts. Only one unit will be used for Drag Week.
Wind-tunnel testing and tweaking in North Carolina took place in April 2015. Last-minute changes for the Ohio standing mile in May will be followed by prep for Drag Week in September, and then if everything checks out, Bailey wants to race NHRA Pro Mod in 2016. Says Bailey, "We can run Professional Drag Racers Association [PDRA] with this car and be competitive with a street-legal car—and also do Drag Week. Rather than having a car that can only race in Drag Week, I'll have quite a few places to run over the year."
This is a complex, compelling build that there is more to see at a later date. But for now here's the first, exclusive shots of the car that could step things up a few notches for the foreseeable future.
The full article can be found at the following link: Steve Morris Engines on HOT ROD
August 31, 2015 - hotrod magazine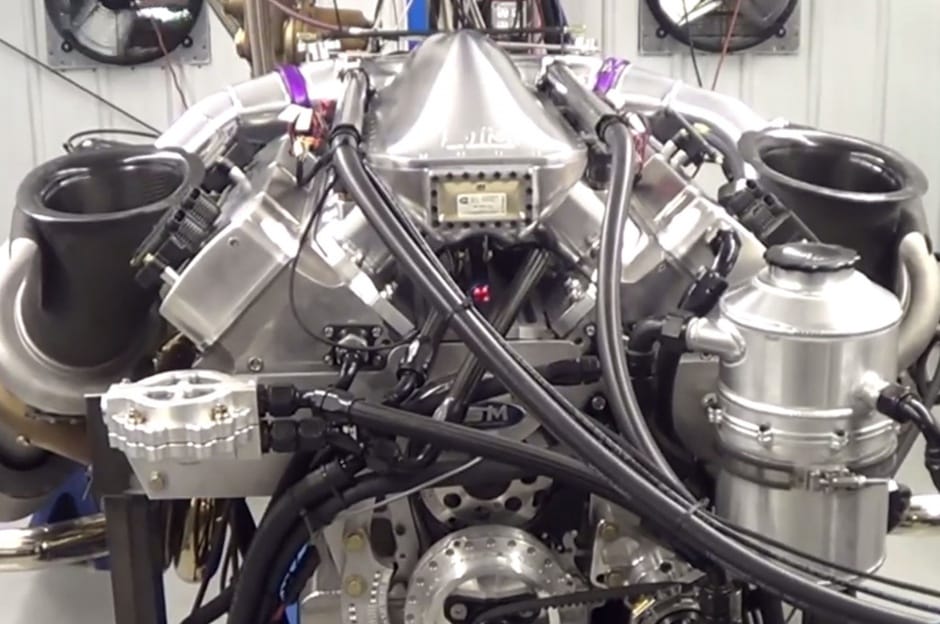 Watch Tom Bailey's "Test Engine" Make 3,600 HP
There are only 12 days until Drag Week 2015. While everyone is out doing last-minute transmission rebuilds and crankshaft swaps, we'll take a quick second to look at a glimpse of what sort of powerplant is needed to take on Drag Week's Unlimited Class.
Steve Morris Engines (SME) builds some of the wildest racing engines out there. He also happens to be building Tom Bailey's "Sick Seconds 2.0" engine. Morris and Bailey have worked together before with Bailey's Drag Week 2013-winning Sick Second Camaro build, so you know this duo is a force to be reckoned with.
SME has recently release a dyno video showing the technical details of the test engine for Tom Bailey's Sick Seconds 2.0. Yeah, Tom Bailey's test mule produces 3,500 hp on methanol—insane.
The test engine is a 615ci big-block Chevy with a pair of 98mm Precision Turbochargers hung off the headers. The engine runs a dual-fuel system for pump gas and alcohol, depending on power requirements. While the test engine is using a cast block, Bailey's race engine should see a billet-aluminum block in the final version.
Watch Steve Morris go over the details of the test mule's engine package, and then watch Morris crank up the boost and churn out 3,600 hp dyno pulls.
The full article can be found at the following link: Steve Morris Engines on HOT ROD
September 19, 2013 - hotrod magazine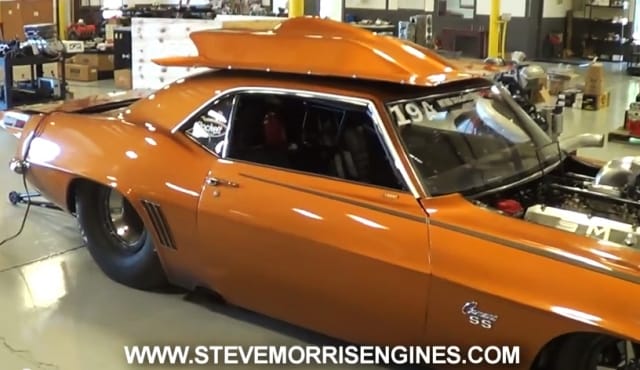 We wrote about Tom Bailey's awesome Hot Rod Drag Week record-setting 1969 Camaroon Tuesday, but we're back today with a full video walk-through produced by none other than Bailey's co-pilot and engine builder, the legendary Steve Morris of Steve Morris Engines.
Project Sick Seconds has a full complement of some of the most killer gear in the marketplace – one of Morris'Brodix-blocked, Brodix-headed 615-cube engines featuring a Callies crankshaft, Oliver billet steel connecting rods, a custom SME camshaft, and a full complement of Jesel valvetrain pieces to go with an Edelbrock intake manifold.
One of Rossler's TH210 transmissions receives the power through a ProTorque torque converter, then sends it through a Gear Vendors overdrive unit to keep the revs down on the highway – which is critical in a Drag Week application.
There are a pair of Precision 94mm Pro Mod turbochargers feeding one of Chiseled Performance's IC4000 intercoolers, and the whole works is run through a HolleyDominator EFI system. Ignition components are from MSD – a simple Digital 7 box and HVCII coil.
After the dragstrip runs, the car is converted from race to street mode by removing the grill cover, unbelting the Waterman fuel pump, bypassing the race fuel cell, and the Hoosier Quick Time Pro tires are aired up to a higher pressure. There is a separate 15-gallon fuel cell in the trunk that feeds an Aeromotive A1000 fuel pump for street duty – an innovative use of dual fuel systems that is critical to the car's longevity.
If you can believe it, Morris states that the record passes were run between 23 and 25 pounds of boost, which is much lower than you might expect from a vehicle capable of achieving a performance like this – a five-day quarter-mile average of 6.836 seconds – while driving over 1,200 miles, with no support vehicle other than what he could carry in the small travel trailer towed behind the Camaro.
It's an incredible feat, one we're not sure will be repeated anytime soon, but as bragging rights are the main motivation behind competing at Drag Week, it's possible someone else will step up for next season. Maybe even Bailey will try to card a quicker average? Check out the video for an in-depth review of America's quickest and fastest real street car!
The full article can be found at the following link: Steve Morris Engines on Chevy Hardcore
June 7, 2013 - chevy hardcore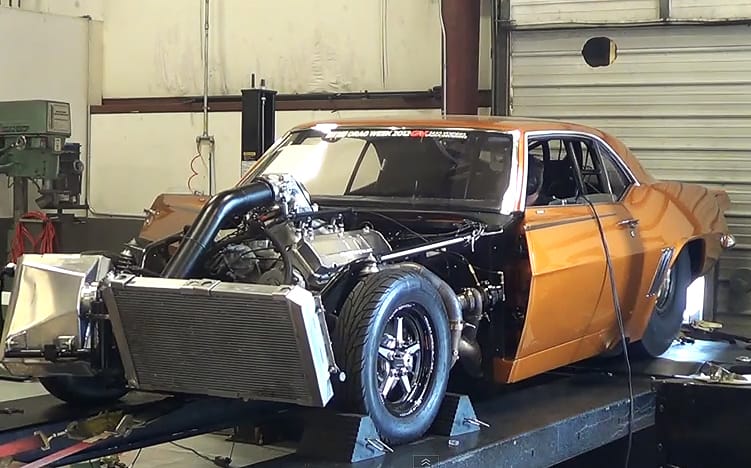 Hot Rod Magazine's incredibly popular Drag Week tour is another four months away from rolling out of the Beech Bend Raceway Park in Bowling Green, Ky. on the 1,000-plus mile journey that will weave through the midwest, but preparations are well underway for the competitors who will tackle the sold out adventure that's become the defining event of street car supremacy.
While entrants from top to bottom are busy building, preparing, and flogging their rides for the week ahead, it's the Unlimited class that always draws the bulk of the attention, largely because year in and year out, new challengers for the overall event crown turn up to challenge the undisputed king of Drag Week, the reigning and five-times-in-a-row champion of the event, Larry Larson, only to come up short of the legendary silver Chevy Nova from Kansas. But each year, things get a little more interesting, and the 2013 running will present another intriguing challenge for the title.
Earlier this week, we spoke with Darryl Johnson, who has been out making some initial test laps in his twin-supercharged Plymouth Duster that will take on Drag Week, and on Thursday, this brand new video filmed by Steve Morris of Steve Morris Engines surfaced of Tom Bailey's insanely badass 'Sick Seconds' 1969 Camaro running on the chassis dyno. Last year, Bailey hung around until the final day of Drag Week, but had valvetrain issues that finally forced him out of contention before the conclusion of the tour. However, he did rock out a 6.94 during an unofficial lap at Tulsa on the final day, giving a heads-up to Larson and the rest of the troops that this beast is the real deal.
Morris and Bailey have only made a minute number of changes since leaving Drag Week last fall, including the addition of a new Holley EFI system to the 615 cubic inch big block that's built using a Brodix engine block and 14.5-degree cylinder heads, fed by a pair of 94mm Precision turbos.
In the video, Morris makes a hit on his shop dyno in the Camaro at 26 lbs. of boost (even higher than the 22 lbs. the team used to accomplish the 6.94 last year), netting an impressive 2,108 horsepower. And to think, in Morris' words, "we're not leaning on this thing very hard at all."
We say it every year like a broken record, but Drag Week is going to be one interesting affair this fall, and we can't wait!
The full article can be found at the following link: Steve Morris Engines on Chevy Hardcore
April 16, 2013 - chevy hardcore
In a quest to reach 1,500-plus horsepower this season, the Blown Z team is stepping up to a larger ProCharger for its 388ci LSX engine. That prompted the customary winter refresh on the engine to include lowering the compression ratio with new JE pistons and also upgrading a few supporting components on the car.
The Blown Z project is based on a 2002 Camaro prepped for NMCA 275 Drag Radial competition. Other possible outings include the LSX Shootout and Outlaw 8.5 races. Last year the car posted a top quarter-mile time of 8.24 seconds at 168 mph. Chassis dyno tests revealed a best of 1,100 horsepower to the ground, but a pull at the end of the season witnessed a cylinder head lifting slightly. The engine was removed and sent toL&R Engines in Santa Fe Springs, California, for disassembly and inspection.
"All the critical parts looked normal," notes L&R's Derek Ranney of the teardown. "The bearings were in great shape, and all the clearances were normal."
With no major problems to correct, the team could focus on ensuring that the engine will reap the benefits of switching from the ProCharger F-1R to the company's new F-1X model. The boost rating is the same, but the larger F-1X spins faster and flows more air while remaining legal for the 275 Drag Radial class. Results of the last dyno pull indicated the tuneup was right on the edge last season, and obviously a larger supercharger would be less forgiving. So, the Blown Z crew opted to lower the compression ratio from 11.3:1 to around 9.7:1 on the rebuild. That required ordering new JE asymmetrical flat-top pistons, but all other engine components return to action — save for new bearings, gaskets, rings and valve springs.
Routine rebuild
As evident in the accompanying photos, the assembly process and engine installation into the Camaro were routine. The LSX block was hot-tanked, checked and honed to accept the new JE pistons and Total Seal rings. New Clevite bearings were used for the Lunati crank and GRP rods while the Comp Cams camshaft returned to its original roller bearings.
The Trick Flow heads were cleaned and reassembled usingFerrea valves, Manley retainers, Comp springs and Jesel rockers. Additional long-block assembly included ARPhardware, SCE head gasket, Jesel belt drive, ATI damper,Fel-Pro gaskets and Dailey Engineering oil pan and dry sump pump. After the long block was dropped into the Camaro's engine bay, it was fitted with a Wilson-modified Holley manifold, FAST injectors, MSD ignition, Fragola plumbing and Jet-Hot-coated Kooks headers before the new ProCharger was installed on the Chris Alston Chassisworks gear drive.
The F-1X is designed to work with naturally aspirated engines producing around 375 to 550 horsepower, with potential making more than 1,800 horsepower. ProCharger says the maximum airflow is 2,000 cfm, which is up from the 1,700 cfm rating on the F-1R. Dimensionally, the F-1X boasts a 5-inch inlet diameter, up from 4 inches on the F-1R. The 3.5-inch outlet is also a half-inch larger than the older model. The F-1X is rated to spin at 72,000 rpm, which is up from the F-1R's 68,000 rpm rating.
Wants to spin faster
"I liken the F-1X to a 2-stroke motorcycle engine," says Steve Morris of Steve Morris Engines, which specializes in a wide variety of ProCharger applications. "It really comes on like a light switch. You need to spin the F-1X faster than the F-1R to make them effective, but they're definitely good for 300 to 400 more horsepower than the F-1R."
The F-1X will deliver up to 38 psi of boost, features self-contained oiling and relies on an internal 5.4:1 step-up ratio. Morris says there is no downside to the F-1X, with the exception of misguided expectations.
"Some have a tendency to think that because they bolt an F-1X in place of an F-1R their car will instantly go faster," adds Morris. "Typically, it doesn't happen because they put it on spinning the same speed as the F-1R. They need to be spun fast and have good frontal air."
Stepping up the blower speed
With the Chassisworks CDS gear-drive system, drive ratios are easily changed. The Blown Z team stepped up from a 1:1.65 ratio to a 1:1.70 ratio. Combined with the ProCharger's internal 1:5.4 step-up ratio, the impeller rpm should increase 2,400 rpm at 8,500 engine rpm.
Since we ran between 20 to 22 pounds of boost for most of last year, the expectations of putting 24 to 28 psi into the manifold gave cause for rethinking the engine's compression ratio.
"The theory is, if you can build more boost you don't need the compression ratio," explains Morris. "Lowering the compression ratio really makes the tuning window broader. That means, you can miss the tune with too much timing or a little too lean, and it doesn't hurt the motor. As you pour on more compression ratio, it gets much more sensitive to the tuneup."
An engine's stated compression ratio generally refers to the "static" compression ratio; that is, a simple math calculation that compares the volume of air in the cylinder when the piston is at bottom dead center (BDC) and then again at top dead center (TDC).
Plugging all the numbers from Blown Z's rebuild, the calculator revealed a final 9.7:1 compression ratio. A much more complicated concept is "dynamic" compression ratio. That considers other engine thermodynamic factors, including but not limited to atmospheric conditions, boost and intake valve timing. A high-performance engine usually has an aggressive camshaft that keeps the intake valve open past BDC on the start of the compression stroke. But if the valve is open, then no air is being compressed by the piston. With boosted engines, the intake cam timing doesn't have to be as aggressive as with a naturally aspirated engine.
How much compression?
Overall, the goal is to manage the pressure inside the cylinder that results from boost and the piston compressing the air. If the pressure is too high, harmful detonation can occur, especially if the fuel's octane rating isn't high enough for the application. Blown Z uses VP Racing Fuel C16 blend, which is rated at 116 octane and designed for boosted engines or naturally aspirated with up to 17:1 compression ratio.
"If I have a limited blower, like the F-1R, I'll put more compression in," says Morris. "If I'm unlimited on blower and large cubic inches, we'll stick around 9:1 or 10:1. Also, we'll be a little lower on blow-through engines than with EFI, because we can control the tune much better between cylinders [with EFI]."
The pistons in last year's engine's had a dome design to squeeze the air-fuel into the 63cc combustion chambers. With a change in compression strategy, the Blown Z team opted for JE's new asymmetrical flat-top pistons with small valve-relief pockets. These pistons will not only lower the compression ratio, but reduce internal friction and contribute to more efficient combustion.
"Anytime you can use flat-top pistons, you're going to have the best efficiency, period," explains JE engineer Nick DiBlasi. "Because you're allowing the combustion chamber chamber to do all the work. You're not hiding cavities anywhere or going over a dome area where it's going to get under the quench."
Less friction with asymmetrical pistons
The asymmetrical piston design takes advantage of the V8's configuration that inherently places different loads on each side of the piston, thereby allowing for different-sized skirts.
"Only the major thrust side of the piston actually takes significant load," says DiBlasi. "There's no point in having both sides the same size. The minor thrust side is virtually along for the ride and sees no load."
With a smaller skirt, the piston weight is reduced. Another advantage of the asymmetrical design is a smaller pin can be used, allowing engineers to stiffen up the overall strength.
"So, you have less friction on one side, a lighter part that's very center balanced and stronger in the end," adds DiBlasi. "If it's lighter, you bring the rotating mass down and it's a lot easier on bearings.
Other features of JE piston include both vertical and lateral gas ports to help maintain combustion-ring pressure and a tough moly-style skirt coating that reduces friction and allows for a slightly tighter piston-to-wall clearance.
"We do the gas ports in conjunction with each other because sometimes the top ports can get clogged," says DiBlasi.
With the rebuilt engine in place, a few other upgrades were added to help with consistency and performance. The Blown Z team took advantage of the CDS accessory drive options to mount a belt-driven Aeromotive fuel pump. Last year's car had a small radiator offset to the right to allow for an air inlet on the left side of the grille opening. With the radiator gone, Blown Z's team reshaped the inlet and mounted it directly in the center of the grille opening. Engine cooling is now achieved with a trunk-mounted Chiseled Performancecooling system with a Rule in-take pump providing coolant-line pressure through the Fragola plumbing. The 3.5-inch Vibrant intercooler tubing that supports the ProCharger blowoff valve routes from the supercharger to the intercooler and back to the intake manifold needed no changes for the new season.
Controlling the engine's fuel and spark, respectively, will be a FAST XFI 2.0 and MSD Power Grid. The lower compression will help the team build a strong baseline and develop more consistent tuning strategies as the season evolves and track conditions change.
During the first test outing, the car ran an early lifting 8.05 @ 154 while posting a strong 60-foot time of 1.26 seconds. After the run the team discovered a loose converter. Repairs have been made, and the team is expecting to crack the 8-second barrier next time out and have set a season goal of 7.70 at over 180 mph.
The full article can be found at the following link: Steve Morris Engines on Chevy Hardcore
September 27, 2012 - chevy hardcore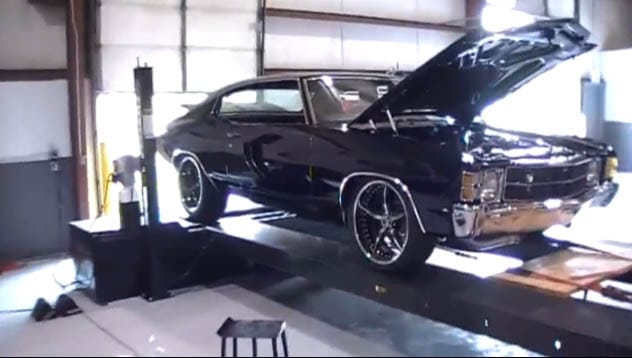 Have you ever had a muscle car pull up to you at a stop light and you immediately wonder what is under the hood? Whether it be the in the weeds stance or the whine of a centrifugal blower that got your attention you will most likely never get a chance to find out what is really lurking beneath the hood. Luckily for you, today we bring you a video of an awesome Chevelle that will be lurking the streets of Tennessee looking for unsuspecting victims.
Steve Morris Racing Engines is based out of Muskegon, Michigan, and is well known for building some serious horsepower for many types of applications. One of the most recent cars to hit his dyno was a 1971 Chevelle with a 496 cubic inch big block propelled by a ProCharger F1R blow through set up.
With the Chevelle primarily being used for street driving it has an air to air intercooler as well as retaining some creature comforts like air conditioning. As a profound whine of the ProCharger fills the dyno room, the Chevelle cranks out a very impressive 800 plus horsepower and nearly equal numbers on the torque side of things.
All joking aside the fact that this street driven machine cranks out over 800 horsepower on 93 octane and low boost levels is pretty impressive. Boost levels remained low due to a restrictive intercooler so maybe we will get to see this beast back on the dyno again soon with some even higher horsepower numbers.
The full article can be found at the following link: Steve Morris Engines on Chevy Hardcore
August 28, 2012 - chevy hardcore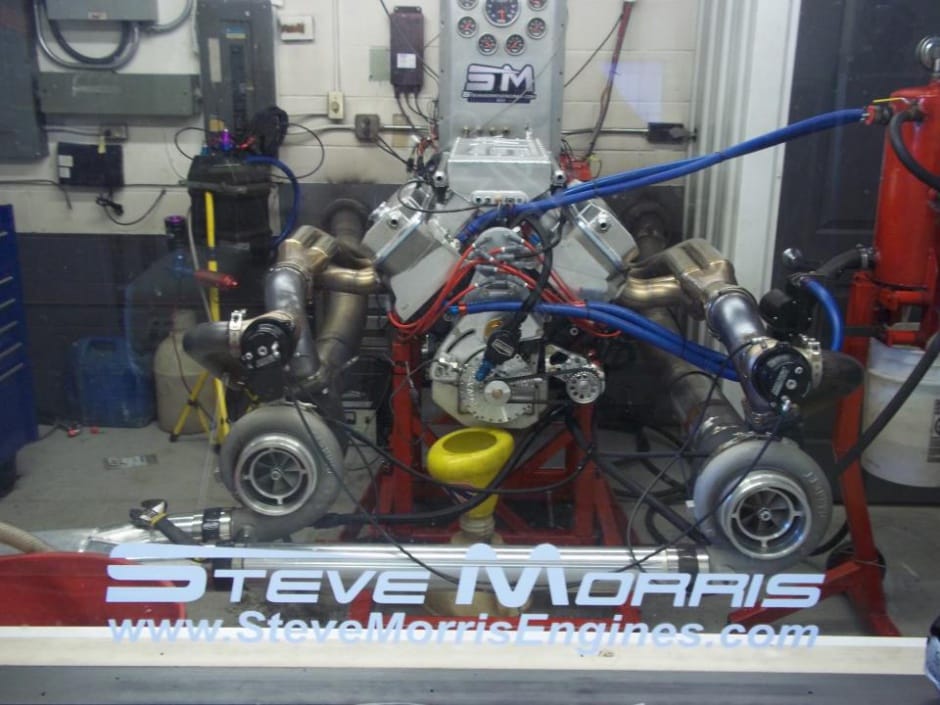 Have you as a fan of racing ever wondered what really goes into these engines that you see blasting down the track?
The world is full of awesome outlaw style race cars from Drag radial to Pro Modified and the mainstream has been consumed with twin turbo power plants. At 600-plus cubic inches with these massive turbos out in front, the limits seem to be endless for the power ranges you can to reach. One of the most recent creations comes out of Steve Morris Racing Engines in Muskegon, Michigan.
The details of such an engine are often not released as it's the intimate details that make these engines unique, but as for this one, we know it's a 600 cubic inch big block with a set of Big Chief 14-degree cylinder heads. Built for Robert at Chiseled Performance, a pair of 91mm turbochargers were chosen for the motivation behind this monster, but to make such a build even more fun, Morris posted a challenge for his followers on Facebook to guess the peak horsepower. The one factor given was that they would not push beyond 30psi of boost during the dyno session.
Many followers chimed in with their guesstimates and even more impressive is that fact that two people guessed the result almost exactly. Running the engine at 7000rpm, the big block cranked out 3,132.7 horsepower at 29.94psi which is extremely impressive considering the fact that with more boost this monster would easily go way beyond this point. Is 4,000 horsepower on the horizon for engines like this one?
The full article can be found at the following link: Steve Morris Engines on Chevy Hardcore
February 23, 2012 - chevy hardcore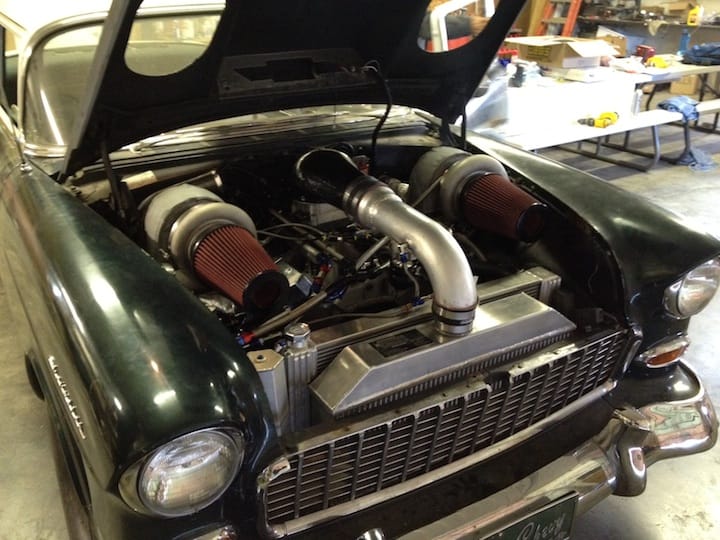 Jerry Aiken from Bellevue, Michigan and his good friend Trever Cornwell have given us exactly what we want to see with this very awesome, dyno pull video from Walsh Motorsports of Wixom, Michigan.
The '55 lead sled being tested at Walsh belongs to Aiken, whose incredible shoebox puts out some 1,016 horses at the rear wheels with a methanol fed big-block that runs on 93 octane. On top of the fact that a Dart, "Big-M" big-block stroked to 509 cubic inches powers Aiken's cool ride, the fast post sedan also features a set of Bullseye S476 turbos with race covers and 1.10 A/R exhaust housings. The big motor's methanol injection is made possible via a methanol system made by AIS.
In this video of the Walsh Motorsports dyno pull, the rad Chevy sedan tachs out at nearly 6,800rpm. It breaks the 1,000 horsepower threshold and does it with a scream. It's a thing of fear to watch Aiken's methanol injected Chevy lift from its rear as the 509 cube motor that is its heart screams to life, pausing everything around it.
Aiken's octane friendly, 509 cube mill featured in his rodded post car features a forged crank and rods, a set of Dart 360 heads, JE pistons and a Steve Morris cam. Overall, fuel injection is provided using a FAST XFI injection system. Custom fabrication, chassis electrical wiring and other electronics for the old shoebox are provided viaLambdatuner.com, a custom wiring and tuning specialist online.
Spark is fed to the sedan's massive motor via MSD's Digital-7 ignition system, and a custom air to air intercooler is built by Jim Sheren. It's a solid sedan for sure, and Jerry Aiken's '55 Chevy will soon turn more than just heads at the local dragstrips in Michigan, should everything pan out as planned for Aiken and his methanol burning shoebox!
The full article can be found at the following link: Steve Morris Engines on Chevy Hardcore