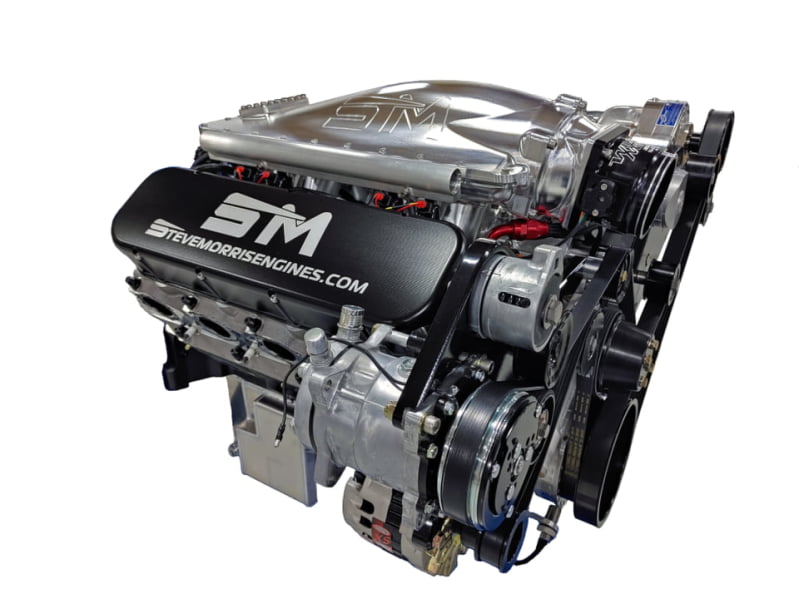 BBC 540ci Stage 1 Engine - 1,400hp
SME Big Block Chevy 540ci Supercharged or Turbocharged Engines - Up To 1,400hp
Looking for good reliable horsepower? This is a tried and true combination makes good power while remaining very street friendly. The clean and simple design allows for easy installation in any car or truck. Just a few wires and fuel line are all that you'll need to get this engine running. This package comes standard with either a centrifugal supercharger (ProCharger, TorqStorm, or VORTECH) or turbocharger(s). These engine can come with optional front engine accessories such as A/C, alternator, water pump, and power steering!
This engine is available with a blow-through carb, or your choice of FuelTech or Holley EFI systems. We offer a variety of upgrade options - such as billet intake manifold, billet valve covers, complete fuel system, and a complete serpentine belt-driven accessory system created by STEVE MORRIS ENGINES!
This product is not available for purchase online. Please contact us if you are interested.
Features
Dart M Block -

4.500" Bore
9.800" Standard Deck Height
ARP Main Studs

Forged crankshaft - SME Balanced
6.385" Forged H-Beam 7/16 L19 Connecting Rods
4.500" Competition Series Pistons
Total Seal Rings
Dart Pro1 345cc Cylinder Heads
Dual Valve Springs
Stainless Valves
SME Custom-Grind Hydraulic Roller Camshaft
Melling High Volume Oil Pump
Centrifugal Supercharge (ProCharger, VORTECH, TorqStorm) or Turbo (does not include headers)
Your choice of EFI system or blow-through carb
SME Custom Valve Covers
SME Dyno Tune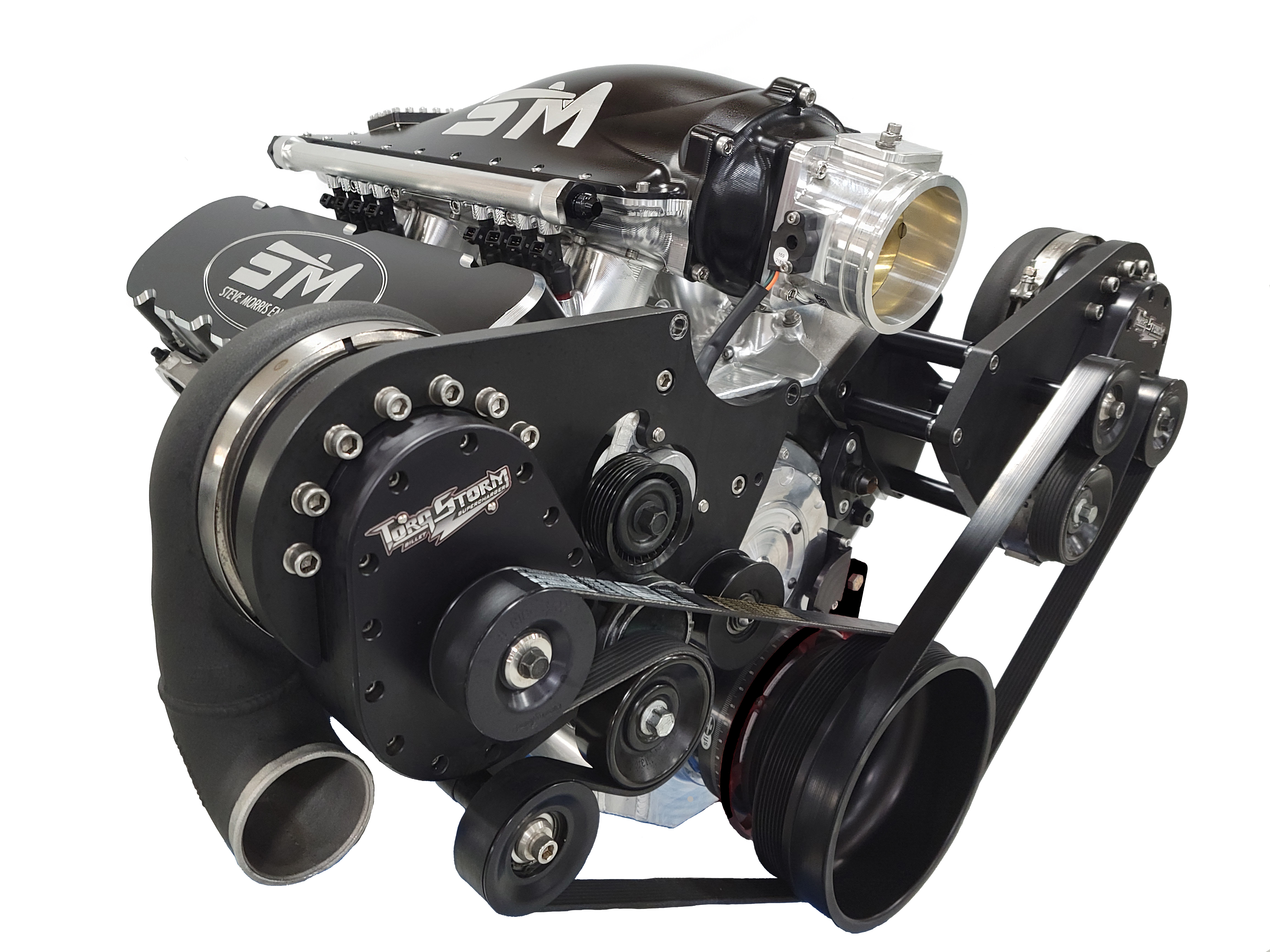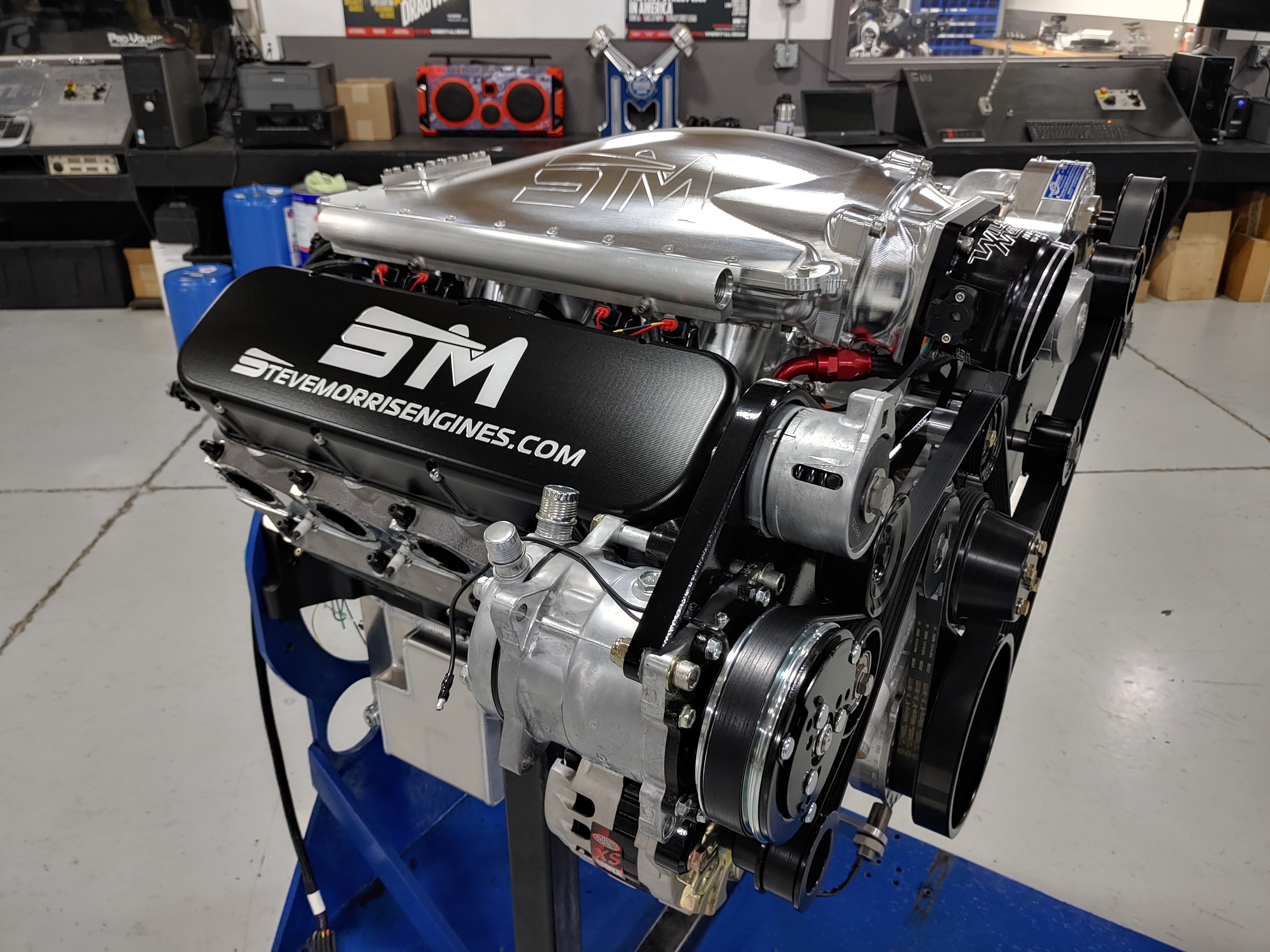 Serpentine Accessory Drive
For those who drive on the street, we offer a Serpentine Accessory Bracket and Accessory Kit. This kit includes Alternator, Power Steering, A/C Compressor, and Water Pump. These SME Brackets allow clearance for a Forward Facing Throttle Body and charge pipe.
1300+HP Stage 1 ProCharged BBC
Twin TorqStorm Superchargers on BBC 1,800+HP