LS
Short and Long-block Combinations
Rotating Assembly and Piston/Rod Kits
Engine Blocks
Crank Shafts
The continually evolving and popular LS family of engines have been shown to be capable of great power. We are proud to offer just a few of the more common offerings we sell. If you don't see it, chances are good that we offer it and can get it for you. Just about main journal, rod journal, post configuration, stroke or other specialized characteristic that you may require can be provided.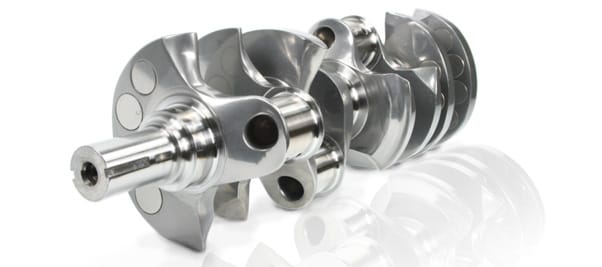 Connecting Rods
LS CONNECTING RODS
There's no denying that the GM LS1 engine platform has proven itself as a performer. When you are stepping up into the world of big-power forced inductions, a good set of connecting rods need to be part of the foundation.
We have spent countless hours designing, testing, tuning, and racing high-horsepower supercharged and turbocharged combinations. We know what works and what doesn't. We have selected a few of our most common connecting rod offerings here for you to purchase. If you don't see what you are looking for, chances are good we carry it. Give us a call or send us an e-mail and we will gladly get back with you right away!
At STEVE MORRIS ENGINES, you are dealing with engine builders, tuners, and racers - not people who can read some numbers from a catalog or website!
Camshafts
Here at Steve Morris Engines cam design never stops. We are continually evaluating cam designs based on our testing here at Steve Morris Engines and from our customer feedback. The latest cam designs are only done here by Steve Morris, call or e-mail us about your needs - we are glad to help. Don't be fooled by others, ask them to be detailed about their recommendations and why. If they need to get back with you it is because they are just asking some cam manufacture for a recommendation. That is not what you are paying for from Steve Morris Engines, you get my cam lobes based off my experience.
* We will be sure to call you for the specifics of your application within 48 hours of your purchase of one of our custom camshafts.
Timing Components
Harmonic Balancers
Lifters
U/P Ultra Pro Pressurized Oiling to Axle Assembly

T/B Tie Bar style lifter does not use OEM lifter retention

P/O Pressure Oiling to Axle Assembly

O/C Pushrod cup is on center in the lifter body

NBA Nascar Bearing and Axle Assembly for Endurance Applications

UFRS Ultimate Fighter Roller Series Bushing lifter NO NEEDLES
Cylinder Heads
Cylinder heads are an important part of your performance engine build. Shown here are just a very few of the many cylinder heads and packages that we offer. We can also offer you all-billet versions, as well as some class-specific castings. If you don't see it here, please call or email!
Rocker Arms Kits and Parts
Pushrods
We offer a very wide range of sizes and manufacturers for pushrods. Too many to really list! From an economy set to full-custom pieces - we have it all! Please call or email us!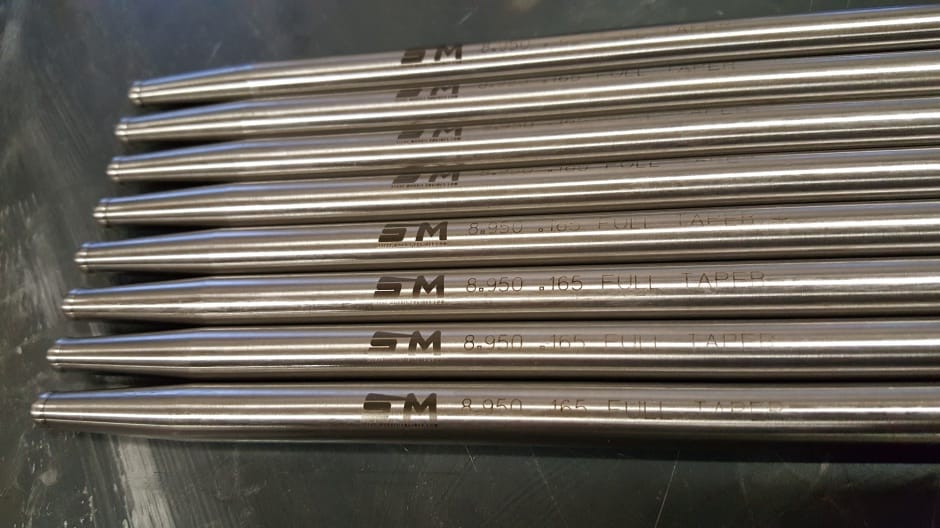 MEASURING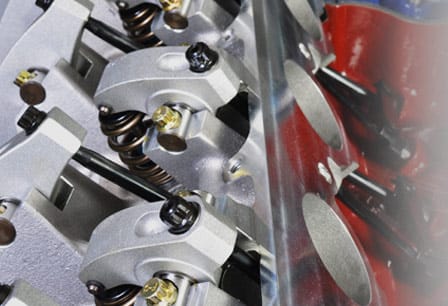 Valve train geometry is when the rocker arm tip moves from the intake side of the valve stem tip, across the center of the tip (at approximately mid lift), to the exhaust side of the valve stem tip (at full lift) and back. (SEE Diagram A)
Pushrod lengths are measured starting at 0.140 gauge diameter, which means if you start at the center of the ball end and measure 0.070 in each direction (totaling .0140) then wherever this distance intersects with the radius of the pushrod is where the measurement is actually started. (SEE Diagram B) The rate of the radius will affect the overall actual length of the pushrod. The reason for choosing this measuring standard is that some manufactures have larger or smaller holes with different chamfers, and these factors will change the measured length.
---
MEASURING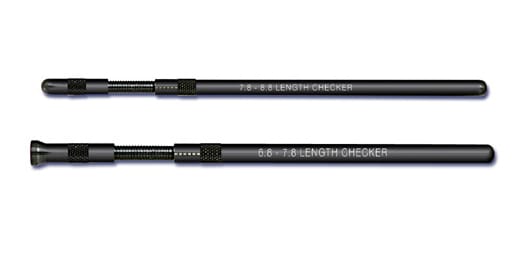 Two pushrods with the same actual 0.140 gauge diameter lengths but manufactured by different vendors may show different lengths.
Measuring results with your pushrod length checker:
Pushrods length checkers are marked with a standard length which is laser etched into them. This number represents the gauge length of a part (0.140 gauge diameter) with the two halves tightly screwed together. Extending the checker one rotation lengthens the gauge length 0.050. For example, a pushrod etched 7.800 screwed apart one rotation would be: 7.800 + 0.050 = 7.850 gauge length. Therefore you would order based on this measurement.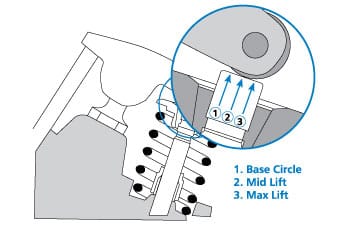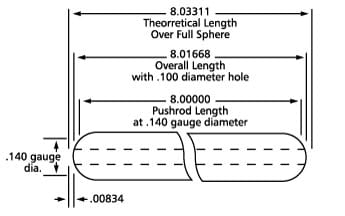 DIAGRAM A DIAGRAM B
Intake Manifolds
Valves
Valve Covers
Valve Springs
Gaskets and Seals